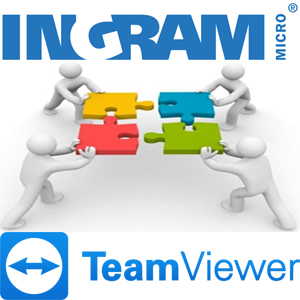 Ingram Micro India has entered into partnership with TeamViewer. In this partnership, Ingram Micro India will officially resell TeamViewer as part of its Enterprise offering to its customers in India, Nepal, Sri Lanka, Bangladesh, Bhutan and Maldives.
"Ingram Micro India is committed to bringing the best technologies and products available across the globe to the Indian market. TeamViewer's range of high-quality digital networking and collaboration software provides enterprise customers tremendous opportunity to improve ease of operation and productivity," says Navneet Singh Bindra, Executive Director, Advanced Solutions Group for Ingram Micro India Private Limited.
"We are delighted to partner with Ingram Micro as our first signed distributor in India, Nepal, Sri Lanka, Bangladesh, Bhutan and Maldives. Together we will provide solutions that really help people and organizations improve how they live and work. TeamViewer does that with a secure and reliable service that has been installed on over 1.4 billion devices. TeamViewer's market leading Remote Support, Remote control, Collaboration, and Internet of Things features help people to share, connect, and support Anything, Anyone, Anywhere, Anytime," says Stephen Pech, Head of Channels for Asia and the Pacific (APAC), TeamViewer.
See What's Next in Tech With the Fast Forward Newsletter
Nothing to see here - yet
When they Tweet, their Tweets will show up here.