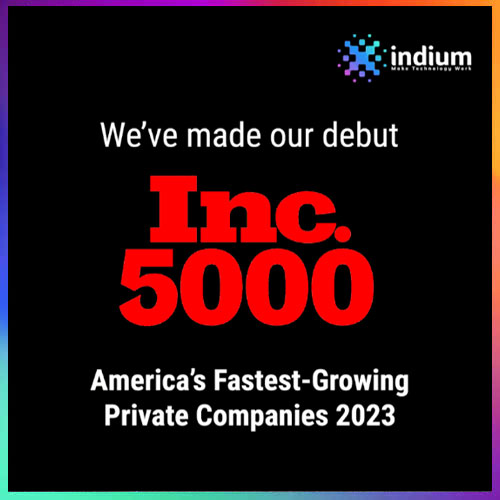 Indium Software, a fast-growing Digital Engineering company, today announced that it has made its debut in the prestigious Inc 5000 list for 2023, the annual list of the fastest-growing private companies in America. Indium has been featured in the list for its remarkable growth of 229% over the past three years.
"We are proud to be featured in this year's Inc 5000 list", said Ram Sukumar, Co-Founder & CEO, Indium Software. "In the face of industry challenges stemming from an unpredictable economic climate, Indium Software has showcased exceptional resilience and determination, earning a place on the Inc 5000 list for the very first time. Our relentless growth mindset, commitment to innovation, and customer-centric approach have led to this notable recognition. We are honoured to be acknowledged for our impact in next-gen technologies and remain focused in our pursuit of excellence."
The Inc. 5000 class of 2023 represents companies that have driven rapid revenue growth while navigating inflationary pressure, the rising costs of capital, and seemingly intractable hiring challenges. This year's Inc. 5000 companies have added 1,187,266 jobs to the economy over the past three years.
Indium Software's recognition on the Inc. 5000 2023 list comes at a time of significant momentum for the company. One of the key contributors to the impressive growth has been the rapid expansion of business in North America. The company's presence has strengthened significantly, allowing it to tap into new markets, harness local talent, and foster innovation through collaborations. With a global presence and a strong track record of delivering high-quality services to clients across various industries, Indium Software is poised to continue its upward trajectory.
See What's Next in Tech With the Fast Forward Newsletter
Nothing to see here - yet
When they Tweet, their Tweets will show up here.