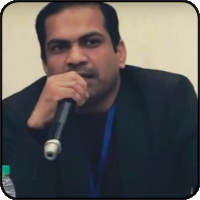 "There were more than 15, 000 requests to Facebook support system last year during a criminal investigation case by law enforcement agencies. Out of these 15, 000 requests, only 53% were responded. It takes 12-15 days sometimes to get a response from Facebook. They have their own international norms and policies which require lot of approvals and the data centers are mostly out of India, so they have to follow those norms and policies. They cannot give a quick response which is always a problem for law enforcement agencies. There were more than 100, 000 requests which go through individuals. Each of us have problems on Facebook and we want to get a response because of somebody is misusing our data, bulling etc. In that case it takes much more time than 12-15 days as of standard duration.  There are a few recommendations which I am going to make here -

•    The data should be in India and it should be governed under the Indian Government Policies and then only the quick response can happen. If we are going to follow some international norms then it will never have that efficiency in the system.

•    Second is the privacy factor of any data. On whenever we are sharing any data, Facebook should also be accountable, they should have some sort of Artificial Intelligence into their system that somebody is cloning my account. They should at least warn or alert me. That will help us to get some privacy protection to our data." 
Amit Dubey
Chief Technical Officer, Tech Mahindra
See What's Next in Tech With the Fast Forward Newsletter
Nothing to see here - yet
When they Tweet, their Tweets will show up here.