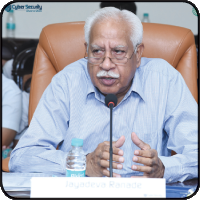 "There are 2 types of illiteracy – one is the traditional form of illiteracy which is the ability to read and write and the other is illiteracy as far as technology is concerned. People like us a bit more time in understanding the Internet. When we look at the cyber domain, we look at it as a big black box. This issue really needs to be addressed and in a manner that creates an awareness. So that is an issue that does come in. The whitepaper besides talking about people like me also talk about the regulator. I will cite an example that is there in public domain – during the Doklam crisis, the government went ahead for setting up of an undersea cable and BSNL decided to float a global tender without putting in any disability clause. So we have a situation today where people applied and among them we had Huawei as a bidder which is a Chinese company. So when we talk of illiteracy, I include this illiteracy on behalf of a regulator too."
Jayadeva Ranade
Cabinet Secretariat - RAW 
See What's Next in Tech With the Fast Forward Newsletter
Nothing to see here - yet
When they Tweet, their Tweets will show up here.