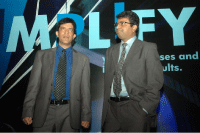 In an email response to VARIndia, Jeffrey Kwasny, Director – Brand Protection for Print Cartridges, HP, shared the company's initiatives to curb cartridge counterfeiting.
What kind of losses in terms of business has HP incurred as a result of the counterfeit cartridges? 
On a global level, HP maintains an aggressive approach to anti-counterfeiting and has conducted more than 4,723 investigations in 88 countries over the last four years. This activity has resulted in the seizure of more than 47.23 million units worth of counterfeit products and components (Investigations and actions have occurred in every continent, except Antarctica).  
Counterfeiting of printing supplies usually involves illegal printing of HP-branded boxes, labels and security seals. Refilled cartridges containing inferior inks and toners are then inserted into this packaging that closely resembles genuine HP packaging. 
How is HP trying to curb these malpractices in India? 
HP alerts and educates customers on how to identify counterfeit products. We incorporate counterfeit alerts into new HP products. Some products (printers and supplies) are designed to alert non-suspecting customers that they may be or are using cloned cartridges or previously depleted cartridges, which may have been refilled.  
For example, most new printers will alert customers when a cartridge that has been previously depleted is inserted into their printer – indicating that the cartridge is not an original HP product and may be counterfeit. If this happens, customers who believe they have purchased a new, genuine cartridge should be suspicious of that cartridge's authenticity and return it to the place of purchase. 
HP also helps customers protect themselves from purchasing counterfeit supplies by encouraging them to verify that the product is genuine by scrutinizing the label on all cartridges sold in APJ/India. Details on how to use the label are listed on the HP website (www.hp.com/go/anticounterfeit) such as:
o
Purchase products through established and reputable retail and commercial channels.  
o
Avoid purchasing products from auction sites or from vendors outside of the customer's immediate geography. 
o
Avoid products that are advertised as "discontinued" or "second quality". 
o
Understand that if the price of a product is too good to be true, the product is probably counterfeit.  
What is the impact of using counterfeit products on the machines or the quality of the printouts? 
Counterfeit products do not provide the same quality and reliability that customers expect from HP cartridges. Counterfeit products can damage the printer. Any printer damage caused by non-genuine HP cartridges is not covered under the HP printer warranty. Also, since counterfeit cartridges are not manufactured and sold by HP, the cartridges aren't warranted by HP either. 
Do you think working with various IT channel associations could be of some benefit? Is HP doing something towards it? Please share details? 
HP works with channel partners to educate them on how to avoid being victims of counterfeit products. Not only do we keep our partners aware of our enforcement action but also train them on how to identify counterfeit products. Apart from the training, HP has also incorporated counterfeit alerts into new HP products. Some products (printers and supplies) are designed to alert non-suspecting customers if cloned cartridges or previously depleted cartridges, which may have been refilled, are being used.
As part of its global anti-counterfeiting programme, HP takes a proactive global approach to alerting and educating consumers on how to identify counterfeit printing supplies. HP also incorporates state-of-the-art technology in their products and cartridge packaging to help consumers identify fraudulent supplies. 
All HP cartridge packaging in the Asia-Pacific region displays a security seal with colour shifting technology that helps consumers easily identify original HP supplies. Customers can learn more about how to use this security seal as well as other best practices to avoid purchasing counterfeit cartridges at:  www.hp.com/apac/nofakes. 
See What's Next in Tech With the Fast Forward Newsletter
Nothing to see here - yet
When they Tweet, their Tweets will show up here.