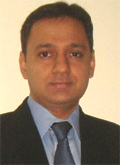 Please share details of your recent internal restructuring of your biz division TSG?
In November last year, the HP Technology Solutions Group underwent a number of changes which, we believe, would get us even closer to our customers and partners. One of the significant changes was the renaming of the group to HP Enterprise Business (EB) which today represents our wide portfolio of Servers, Storage, Networking, Software and Services. The recently acquired EDS business also lies within this group, now newly rechristened as Enterprise Services. Additionally, HP combined its fast-growing Networking business into the Servers and Storage business group to build what is called the Enterprise Servers, Storage & Networking (ESSN) division within the EB Group.

We also changed our sales go-to-market model by introducing a depth focus to close-to 2,000 accounts globally which, in turn, would help in making our partners more accountable and responsible for the rest of the large commercial, mid-market and SMB customers.
HP has carved out a unified ESSN Channel & SMB Sales Organization under the ESSN Division, to present a single accountable face to our channel partners for the entire portfolio of servers, storage and networking. Unlike earlier, this is where we had a fragmented channel model split across three businesses, i.e. value, volume and networking.

Does this restructuring also lead to some restructuring or changes in your distribution network?
This new ESSN channel team will now be responsible for engaging with our channel partners to help make them more self-sufficient on our portfolio of ESSN products by specializing them through training and certification efforts, engaging with them on business planning and account planning to drive growth, and help them attach more of our products in the solutions they offer.   

How do you think this restructuring will expand the horizons for your channel partners?
At HP, Channels continues to be pivotal to our growth strategies. This restructuring only reasserts this: we build more accountability within both our teams and our partners. We continue to invest in more resources to manage our channel partners, in more rebate and incentive programmes to motivate both our partners and their sales teams as well as in delivering new programmes to enable them to service our customers better. We are enhancing training and enablement of our datacenter focussed partners in areas such as converged infrastructure, virtualization, consolidation and networking so that partners can address complete infrastructure opportunities effectively and independently in the marketplace. With the growing customer IT maturity curve even more faster than before, it has become imperative for us to enable our channel partners to gear up to address these changes and make the most of the market opportunity, given that we have already started witnessing a strong rebound in the economy.

Over the past few months, we have also started enabling partners with new disruptive initiatives in the market. HP has announced a granular micro-vertical strategy forging stronger vertical-specific local ISV partnerships and creating attractive solution bundling for HP's products. We have also launched a Datacenter Partner programme to specialize partners with certifications around our Blade Server & Storage solutions, virtualization & consolidation solutions, etc. The programme is aimed at helping channel partners address the increasing datacenter opportunities in the midmarket and SMB space.

What is your message to an HP Business Partner?
The Indian technology environment is evolving very rapidly. Customers are leap-frogging in their adoption of technology and new models of IT are emerging. It becomes all the more imperative for our channel community to gear up to quickly adapt to these changes in the market place. At HP, we are here to help partners identify the right strategic opportunities and take them along this journey.
We will continue to be aggressive in our innovations, solutions and delivery models, whether it is with blades, energy-efficient servers, networking and datacenters or converged infrastructure now. Unlike many of its competitors, HP remains one of the only few vendors who have stayed committed to investing in technologies, markets, and products and added strength to its offerings with meaningful acquisitions that he industry is witness to.

Today, we are probably the only company that offers a breadth of portfolio that spans from x86servers, Unix Servers, BladeServers, high-performance computing, a wide Storage portfolio, networking, datacenter solutions, software and services, apart from our wide PC & Printing Portfolio. Hence, a HP Business Partner need not look elsewhere.

Can you tell me the top priorities for HP India going forward in 2010, specifically from a channel perspective?
The next few months will see the emergence of technologies such as everything as a service, converged infrastructure, real-time business intelligence and simplified collaboration. At HP, we are focussed on addressing these customer opportunities and our channels will play a key role in helping us reach out to these customers. HP is very clear in its channel focus and no one understands this symbiotic relationship better than we do.

We will continue to enable and specialize our channel partners. We will continue to bring leading-edge innovations in our products and services that will help our partners differentiate in the marketplace. We will continue to build on our delivery models and work on operational efficiency that will help channel partners to be more active in the marketplace. We will work on strategies to grow our "partner-led" business. Finally, we will continue to focus on our share of wallet in the various segments.
See What's Next in Tech With the Fast Forward Newsletter
Nothing to see here - yet
When they Tweet, their Tweets will show up here.