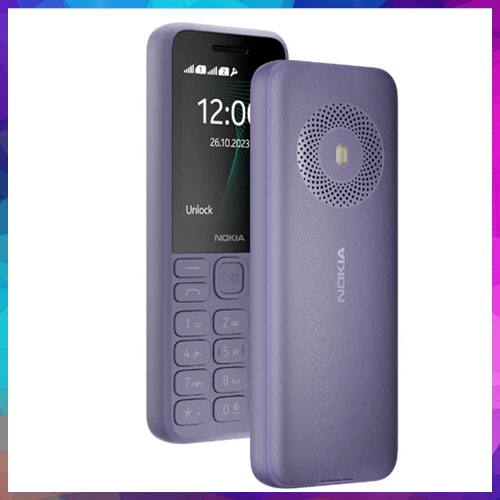 HMD Global has announced the launch of the Nokia 130 Music, a phone designed for music lovers which provides long-lasting connections, impressive battery life, and a plethora of user-friendly features. The Nokia 130 Music promises to be ideal companion, keeping connected, entertained, and productive throughout day. The company is also introducing the Nokia 150, a premium feature phone that seamlessly combines elegant design with rugged durability, revolutionizing your mobile experience. 
Ravi Kunwar, Vice President- India & APAC, HMD Global, said, "As we introduce the new Nokia 130 Music and Nokia 150 to the world, we're thrilled to offer phones that truly stand out. With all new design and rich music features, upgraded battery for extended talk time, and user-friendly designs, the Nokia 130 Music and Nokia 150 embodies the essence of lasting connections and convenience. These phones are proof of our commitment to providing reliable and innovative devices that enhance our customers' lives. 
The Nokia 130: For music-enthusiasts   
This feature-rich mobile phone strikes a perfect balance between practicality and entertainment, making it an ideal choice for those seeking a reliable and affordable communication device. 
With a powerful loudspeaker and MP3 player, the Nokia 130 Music ensures that you can enjoy your favourite tunes anytime and anywhere. The MicroSD card support allows you to store all your music, while the FM Radio offers both wired and wireless modes, providing endless music options to suit your preferences. 
Navigating and texting become simple and fast with the Nokia 130 Music, thanks to its big 2.4" display and tactile key mat. The balanced design and easy-to-use UI enhance your overall experience, making the phone a breeze to operate, and giving you a user-friendly experience. 
The phone also boasts dual-band GSM 900/1800 networks, ensuring reliable connectivity for calls and texts. It offers a smooth user experience with its intuitive interface. Itsupports SD card of up to 32GB, providing ample space for multimedia and data storage. The Nokia 130 Music form factor is both compact and practical, featuring a 2.4-inch QVGA display that delivers clear visuals. For seamless connectivity, the device comes equipped with a Micro USB (USB 1.1) port and a standard 3.5mm audio headphone jack and a bundled wired headphone. 
Talk for Longer with Upgraded Battery.   
The Nokia 130 Music is equipped with an upgraded 1450 mAh battery, delivering hours of talk time and an impressive 34 days of standby. Say goodbye to frequent charging and enjoy uninterrupted conversations with your loved ones. 
The Nokia 130 Music has ample storage for 2000 contacts and 500 SMS, eliminating the hassle of constant charging and storage limitations for your important contacts and messages. With preloaded content for entertainment and the option to choose between wired and wireless FM radio, you'll never run out of things to do. Additionally, the MicroSD card support and MP3 player enable to store all favourite songs. 
The sleek design and robust construction of Nokia 130 Music not only looks outstanding but also withstands the wear and tear of everyday use. The phone's perfect balance ensures an easy hold, making it comfortable to use for extended periods. The Nokia 130 Music comes in three captivating colours - Dark Blue, Purple, and Light Gold.   
The Nokia 130 Music is proudly designed in Finland. Every Nokia Phone goes through rigorous durability tests, ensuring it can withstand the most hectic days and deliver exceptional performance. 
The Nokia 150   
The all-new Nokia 150 is a premium feature phone that seamlessly combines elegant design with rugged durability. Its captivating metallic accents and robust nano texture blend sophistication with resilience, confidently withstanding daily wear and tear. Boasting a metallic navi key area and a polycarbonate build with inherent colors, the Nokia 150 is not just visually appealing but also highly durable, backed by an IP52 dust and splash-proof rating. 
With an upgraded 1450 mAh battery, one can enjoy 20 hours of talk time and an impressive 34 days on standby, eliminating battery worries. Capture cherished moments with the VGA rear camera featuring a flash and a spacious 2.4" display, while the powerful loud speaker and MP3 player ensure up to 30 hours of music playback. Navigating the intuitive user interface on the expansive 2.4" display is a breeze, complemented by the tactile keymat for comfortable typing.  
Variants, pricing and availability   
The Nokia 130 Music will be available in Three stylish colours Dark Blue, Purple, and Light Gold in India, at retail stores,  on Nokia.com/phones, and online partner stores, at INR 1849 for Dark Blue & Purple colours & INR 1949 for the Light Gold colour. 
Nokia 150 is available in three attractive colors i.e., Charcoal, Cyan & Red at just Rs. 2699, the Nokia 150 offers exceptional value for a premium feature phone, setting a new standard in its category.
See What's Next in Tech With the Fast Forward Newsletter
Nothing to see here - yet
When they Tweet, their Tweets will show up here.