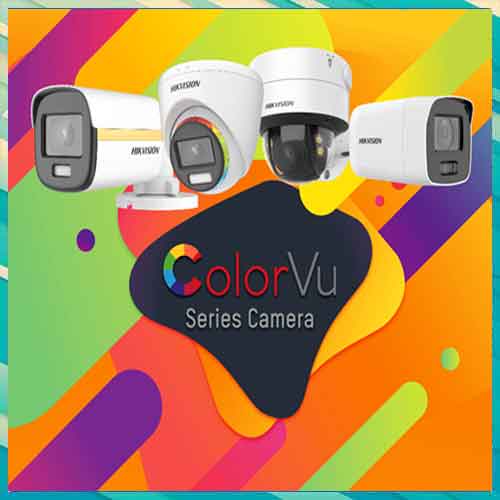 Hikvision brings new cameras leveraging ColorVu technology for excellent high-quality color images day or night. These new cameras include panoramic, turret, and bullet models to cover the widest range of application needs with five new models in all. These latest additions to Hikvision's lineup of emerging security technologies were developed in response to market demand for security products that deliver reliable high-performance operation and extreme value.
"Our ColorVu technology delivers industry-leading color image performance for our security partners and their customers, maximizing the value and effectiveness of their security camera investments," said John Xiao, Vice President of Marketing, Hikvision USA. "By incorporating proven, highly effective AI along with ColorVu, we are delivering on Hikvision's commitment to achieving true physical-cybersecurity convergence and helping organizations meet their service and security objectives." 
Hikvision's ColorVu is an innovative low-light camera technology that utilizes advanced image processing algorithms and built-in lighting to provide color images even in the darkest environments. All five new camera models employ ColorVu for outstanding images in both daylight and nighttime. Select new models also include Hikvision's impressive AI analytic technologies to gain insights, find patterns, and discover relationships in the data to redefine and enhance security systems.
Two of the new Hikvision models are the ColorVu panoramic network cameras available in 6 MP or 4K turret and bullet models. This camera line offers outstanding 24/7 color imaging paired with Hikvision's AI-driven intelligent event detection that can trigger visible, audible, and network alarms in response to events of interest. These cameras feature:
·       24/7 colorful imaging
·       Efficient H.265+ compression technology
·       Clear imaging against strong backlight due to 130 dB WDR technology
·       Focus on human and vehicle classification based on deep learning
·       Active strobe light and audio alarm to warn intruders off
·       Water and dust resistance (IP67)
Hikvision has also introduced three new 5 MP ColorVu TurboHD Kits joining its line of ColorVu products. These offer the perfect solution for your video security needs with 24/7 full color and intelligent, advanced tracking with Motion Detection 2.0. With Motion Detection 2.0, you'll never miss a thing—it allows you to focus on human and vehicle events with instant alarms and handy search functions. These bundled kits are easy-to-install solutions with quality cameras and properly sized DVRs:
·       Model T7204U1TA4C includes four 5 MP TurboHD ColorVu Turret Cameras and a 4-channel DVR with 1 TB HDD.
·       Model T7208U2TA6C includes six 5 MP TurboHD ColorVu Turret Cameras and an 8-channel DVR with 2 TB HDD.
·       Model T7216U4TA12C includes twelve 5 MP TurboHD ColorVu Turret Cameras and a 16-channel DVR with 4 TB HDD.
Included in the new ColorVu additions is a 4 MP License Plate Recognition (LPR) for advanced plate detection and full color video day and night. The LPR camera supports comprehensive parking lot management for improved safety, efficiency, and cost-effectiveness. This camera is compatible with third-party software, and ideal for vehicle access authentication, vehicle direction detection, and vehicle counting at entering or exiting. Features include:
·       High quality imaging with 4 MP resolution
·       Excellent low-light performance via ColorVu technology
·       Efficient H.265+ compression technology to save bandwidth and storage
·       Clear imaging against strong backlight due to 140 dB true WDR technology
·       5 streams to meet a wide variety of applications
·       Water and dust resistant (IP67) and vandal proof (IK10)
·       Unique PTRZ capability for efficient installation
See What's Next in Tech With the Fast Forward Newsletter
Nothing to see here - yet
When they Tweet, their Tweets will show up here.