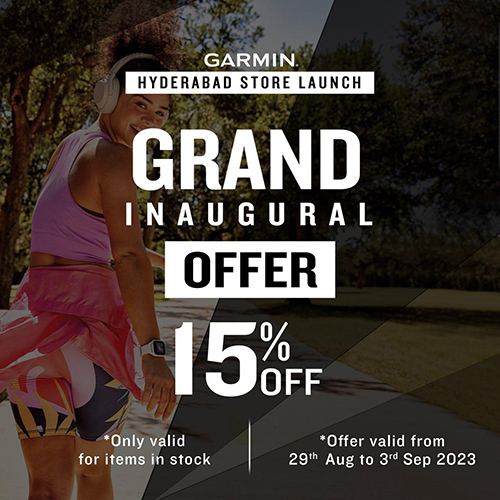 Garmin India, a unit of Garmin Ltd. (NASDAQ: GRMN), today announced the grand opening of its largest Indian Experience Store in the heart of Hyderabad's vibrant Banjara Hills. The new store aims to cater to the rising consumer demand by providing customers with a seamless opportunity to explore and acquire a wide array of Garmin products and services. The sprawling store, spanning over 540 sq. ft., is a testament to Garmin's commitment to providing a comprehensive and immersive retail environment, enhancing customer interaction and engagement.
The grand opening of the new experience store in Hyderabad's prestigious Banjara Hills at Shop no 8-2 -626/3/AG5, MS towers, Road No- 1. This store launch marks an exciting chapter in Garmin's journey to enrich the lives of its customers through cutting-edge technology and impeccable service.
Sky Chen, Regional Director, Garmin Asia, and Southeast Asia, expressed his enthusiasm about the new store launch, stating, "We are absolutely thrilled to introduce our largest yet brand store in the vibrant city of Hyderabad. This remarkable achievement signifies our deep-rooted commitment to India and our ardent belief in the Indian market's potential. The store is a reflection of our dedication to delivering innovative products and fostering stronger connections with our valued customers."
Owing to the incredibly positive response received from the users, Garmin grew 23% in the second quarter in the fitness segment as per Garmin's global Q2 finance report 2023, with growth across all categories led by strong demand for advanced wearables. Further to the highlights of the year, Garmin recently launched the popular epix Pro series smartwatch with AMOLED screen and built-in LED flashlight in 3 size variants to suit a wider range of users.
The newly inaugurated store will feature an extensive range of Garmin smartwatches spanning various categories, including Fitness, Outdoor, and Wellness. This collection encompasses notable products like the recently introduced Fenix 7 Pro and Epix Pro series, as well as Instinct 2X Solar, Forerunner 965/265, Approach S70 and a host of other options, allowing consumers to find their perfect match. Additionally, GBS team of experts will be on-hand to provide personalized guidance and support in understanding product features and making informed selections.
With this launch, Garmin's total brand stores in India increases to 5, which are present in Pune, Delhi NCR and 2 in Bangalore. Garmin India also drives its sales through offline channel partners like Helios Watch Store, Just in Time, Croma and other key cycling, sports stores and E-Commerce partners like Amazon, Flipkart, Tata Luxury, Tata Cliq, Nykaa, Bhawar.com and Synergizer.com.
The launch of the Garmin store, with its prime location in the city and vast expanse, is a significant step towards providing customers with a seamless and engaging shopping experience. As a welcome gesture, consumers can avail the following offers at the store:
● Exclusive 15% off as an inaugural offer from 29th August to -3rd September. * Excluding - Fenix 7 Pro, Epix Pro, Forerunner 265 and Forerunner 965
● Consumers can also avail complimentary GRC Running Jersey with every purchase of Fenix 7 Pro, Epix Pro, Forerunner 265, or Forerunner 965. Limited offers can be availed on a first-come, first-served basis
As Garmin India celebrates this remarkable milestone with the inauguration of its largest Indian Experience Store, the company continues to strive for excellence, enriching customer interactions, and fostering enduring relationships. With a steadfast commitment to delivering unparalleled products and services, Garmin's Banjara Hills store is poised to become a hub of innovation, knowledge sharing, and delightful experiences for all.
See What's Next in Tech With the Fast Forward Newsletter
Nothing to see here - yet
When they Tweet, their Tweets will show up here.