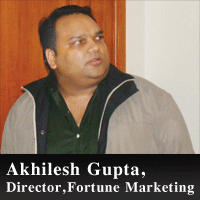 Delhi-based Fortune Marketing, known for its Enter brand of multimedia products, storage and networking devices and Bluetooth dongles, has made its presence vigorously felt in the security surveillance space. 
The company has launched an array of products, including standalone DVR systems, PCI-based DVR cards, CCTV cameras, etc. under the brand Enter.  Since the number of people investing in security surveillance is increasing at a fast rate, the company made the right decision to enter the space. "We are dealing with a complete range of analogue and IP surveillance products, but very soon we are also coming with video door phones, intruder alarm systems and access control systems," says Akhilesh Gupta, Director, Fortune Marketing. 
Speaking about the security surveillance space the Company has ventured into some three years ago, Akhilesh says, "Security and surveillance business market has great future. We are dealing with both CCTV and IT partners. So we are educating the partners by imparting them with the latest knowledge about the technology." He added, "We are seeing a great future in this market because other than security, camera is also playing a big role in video analytics which means in future camera will act as an eye and software will be the brain. So, put together, this will create a huge market on various verticals." 
Akhilesh feels that working with IT partners is more easy since they are more organized and have more knowledge of technologies like wireless, IP, etc. and the best part is that we know them and their capabilities for many years. The brands we are dealing in now are Secureye, Enter and Canon."   
According to Akhilesh, 80% of the products come from the unorganized market. Since VAT on these products is about 12.5%, they attract the highest custom duty. In the market, one can see that even the small carrier claims to be an importer and wants to sell under his own brand name. So, like this we can find around 800 partners all across the country, whereas the organized players are very few. Actually, you can count them on fingers.
See What's Next in Tech With the Fast Forward Newsletter
Nothing to see here - yet
When they Tweet, their Tweets will show up here.