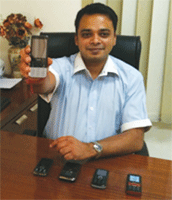 Rohit Agarwal,
  CEO, Pine Mobiles
How long have you been operating in the Indian market? What made you foray into this segment, given the immense competition coming from other major players?
We have been operating in the Indian market since April 2010. In the past few months of our operation, we have been one of the few players to have launched handsets and our services with unmatched speed. India being the hub of telecom activities in the past 3-5 years, we decided to offer our unique services to the Indian market. The DNA of our products comes from the values and innovation created in our headquarters in Singapore. Our products are uniquely positioned to offer value for money to the Indian consumers. For instance, our focus has always been to offer features which are India-specific like Hindi Panchang, local language (Hindi, Assamese) support, etc. and this simple factor will determine the growth of our business in the long run. 
How do you place your brand in the competitive landscape of the country? What is your go-to-market strategy?
In the present-day competitive world, survival tactics have become very important. There is competition in almost every sphere and the one who survives its wrath till the very end is the one who comes out victorious. Similar is the case with us. We might initially face trying times, but this will not deter us from achieving our goals and pose as a hindrance to our growth. At the end of the day, tasting success is what we are aiming at.
Our go-to-market strategy revolves around channel partners and distributors, as they are the ones who bring life to our products. We would regularly support them with newer products, offers, promotions and marketing and appropriate remunerations and incentives. 
How many handsets do you have at present? At what price bands are they available? Any new launches this quarter?
Currently, Pine Mobiles has got six models - Prince, King, Trio, Executive, A1 and Bee. They are all available in a price range starting from Rs.1,695 to Rs.3,995. In the coming months, we plan to focus on Touchscreen, 3G and CDMA phones.   
Do tell us something about your channel presence in the country? Have you signed any IT distributors?
No, we haven't signed or tied up with any IT distributor and do not have any such plans in the near future. However, more than 7,000 retail outlets across the country are selling Pine mobiles and we aim to increase this number, which would further help in the consolidation of our handsets in the Indian market. We are present across the length and breadth of the country, with a special focus on small towns and Tier II and III cities.
How important is the growing retail business for the sale of your products? Do you have exclusive company-owned outlets? 
At present, we have decided to go along with multi-brand electronic chains and independent resellers for the sale of our handsets. But as time goes by and as we move up the ladder, we would certainly look up to tying up with the leading retail brands to get an equal footage across cities and small towns. Also with real estate and retail space booming in the second rung cities, we plan to further penetrate the channel and offer a handset to every hand.     
How are you addressing the after-sales service?
Our after-sales service would be one of our strengths in the Indian market. We have tied up with individual resellers and they would be trained in our technologies to offer repairs, accessories and other after-sales services. At the last count, we have more than 300 full after-sales service agencies. While 70 of them are company owned, the rest have been contracted via a servicing agency who are fully trained on all the Pine products.  
What is your future roadmap when it comes to positioning your handsets and most importantly your brand?
We would continue to remain as a mass market brand where low-cost, affordable handsets would be the order of the day. We would develop new India-specific features and would roll out when the market matures. Going forward, we would look at different options and privileges that will come our way and would act on them, as and when time permits.
For more contact:
samrita@varindia.com
See What's Next in Tech With the Fast Forward Newsletter
Nothing to see here - yet
When they Tweet, their Tweets will show up here.