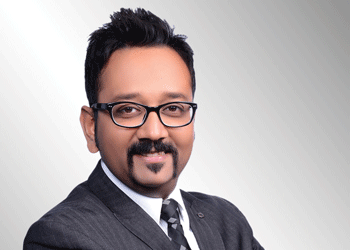 Arvind Saxena
Group Marketing Head - Sify Technologies Ltd.

Sify invests in making a difference to the lives of all those that the brand touches – be it Customers, Shareholders, Employees, Partners. "We call it Relationship Marketing. We maximize the time we invest across various touch points and gather insights constantly to address the needs of the ecosystem.  Our 360 degree customer outreach strategy gives us deep insights on enterprise buying behaviours, customer journey mapping, in addition to the broader technology shifts and whitespaces therein. Media being the biggest catalyst of change and change-makers, has helped us share our POVs and strategic positioning in the market, with industry peers across Print and Digital," explains Arvind Saxena, Group Marketing Head - Sify Technologies Ltd.

Sify Technologies has built a knowledge-sharing community of Thought Leaders over the past 1 year that supports each other with rich insights on technology best practices across industries. "The fact that we are on Gartner's Magic Quadrant for the fourth consecutive year reinforces our standing as a leading service provider. Enabling customers on their transformation journeys has helped us maintain high satisfaction scores among our 8500+ customers," says Arvind.

In the past year, Sify introduced additional layer of services with the intent of helping enterprises scale rapidly.  In the network space, its offerings such as SMACnet and Managed WiFi service have ascended from enterprises requiring workforce collaboration in an era of hyper-connectivity.  Similarly, its WAN Transformation solution enables a unified cloud based network management replacing the hassles of managing disparate networks and vendors.  Sify has been a leading player in Applications such as SAP, helping enterprises with their ERP transformation.

To re-define their business from both a strategic as well as a technology standpoint, Sify partners with its customers for ideas. In verticals like BFSI, it has been able to lay the groundwork for firms to enable seamless digital transactions, payment gateways and fintech start-ups along with new forms of technology based insurance models. 

2016-17 has been a year of Customer Delight coupled with industry recognition for its work in the space of Product Innovation and Business Impact from leading industry analysts and publications. Being crowned the "Business Superbrand of the Year" and CIO Review's "Most Promising Data Center Solutions Provider', Microsoft's "Cloud Partner of the Year" among a slew of other awards is a testimony to the increasing confidence of its customers and partner community. "The trophies were for us, but our gratitude is for our customers," asserts Arvind.
See What's Next in Tech With the Fast Forward Newsletter
Nothing to see here - yet
When they Tweet, their Tweets will show up here.