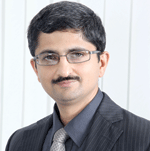 Rajiv Rao
Director- SMB 
Lenovo India
 Lenovo aims to grow 3X the market and increase its SMB market share this year. It also aims to create a significant impact in the high potential Indian SMB market by deploying a 360o approach-to-market with a strong distribution network to support the same.   
Aiming tall…..
Being India's fastest growing PC maker among the Top 3 players in the country, Lenovo is making strong inroads in the SMB segment with the objective to be a reliable partner. In this direction, the company has deployed a 360 degree approach-to-market with a strong distribution network to support the same. 
Today the PC industry is undergoing a dynamic change and Lenovo addresses them in Accessing to suitable products, Reliability, Good price-value proposition. Lenovo India is the leading PC vendor with a market share of 15.8%. It has witnessed an astounding 63% growth YOY in market share and growing at 23x the market. The company aims to grow with the same momentum and sustain leadership position in the coming years. 
The growth plan…..
As per the overall PC industry, SMB contributes to about 27% of the overall market. Currently, SMB segment is one of the key focus areas for Lenovo and it contributes about 10% to its overall revenue. Lenovo has been able to address this market with specialized and customized products for the sector addressing the needs of the SMB market. 
Rajiv Rao, Director – SMB, Lenovo India states, "In the coming year, we will continue to sustain and enhance our leadership in the Enterprise business. Clearly, the Consumer and SMB divisions would be one of the key focus areas for Lenovo and it offers a tremendous opportunity for us to achieve hyper growth. We have charted out clear plans to grow our business in these divisions. Hence Lenovo's focus is on building brand consideration and preference with the younger generation. The Youth is the key target segment for Lenovo as they view technology as an integral part of their lives."
Lenovo has partnered across verticals (IT/ITES, manufacturing, education, animation, hospitality and non-tech industries) as the company has witnessed good volume growth in these segments, because of their huge demand for IT infrastructure.
In the process, Lenovo has almost tripled/quadrupled their team year-on-year. It also has a large contracted field force that allows it to reach out to more partners. The company has a clear distribution-led strategy with a focus on VARs and revamped retail strategy to tap the smaller SMBs. On the VAR front, Lenovo is investing highly to train and incentivize them. There is also a telemarketing engine that provides leads and does various account closure activities with the VAR channel.
On the retail front, the company till now has been leveraging their existing consumer stores which Think corners in some of them. However, now they have a strategy to reach out to the SMBs with exclusive stores for SMBs. The first store has already been launched in Pune and they are looking at expanding into SMB clusters in towns like Coimbatore, Pune, Surat, Ahmedabad, etc. These stores will sell ThinkCentre desktops, ThinkPads as well as SMB software and peripherals. A combination of Think Retail, the VAR channel and the traditional RD channel are likely to be Lenovo's three growth pillars for the coming year. 
The Channel and VAR Connect…..
Lenovo's focus on channels is driven by the need to develop a core channel partner ecosystem in India, replicating the company's highly successful model in China. The company considers its channel partners as natural partners in profit and they persistently work towards fortifying their channel relationships to nurture a long-lasting, mutually beneficial bond. Lenovo's channel structure has its channel partners and distributors which include SMB RDs (Regional Distributors), VARs (Value Added Resellers) and retail. Lenovo has outlined a clear strategy to focus on its retail business, enabling deeper penetration in to the channel as well as tier 3-5 markets. In this process, it has recently opened its first PC store to cater to the needs of SME customers in India. Special emphasis is laid to strengthen its channel partnership and plans to add more to the existing partners in a bid to connect with the SMBs. 
"Over the years, we have established a strong connect with our channel partners. We organize special training programs for our partners as and when new products are launched to ensure that they are fully acquainted with our products on an ongoing basis. Our aim is to strengthen our channel partnerships and allow them to grow as we grow. In line with this objective, Lenovo is instituting an SMB focused partner training programs and tele-sales set-up to ensure real time support to the channel community," quips Rajiv.
Quality without Compromise…..
For Lenovo,  quality of service has always been an area of focus to ensure better turn around time (TAT) and customer delight score (CDS) resulting in customer satisfaction. All the engineers are well trained and certified by Lenovo who are thoroughly conversant with technology and specially their products. Lenovo has started taking its service delivery to next level by providing more of "remote take over support" for all its customers. Lencare (Lenovo care), a dedicated support team to manage non technical escalations, has been deployed to help its customers.
See What's Next in Tech With the Fast Forward Newsletter
Nothing to see here - yet
When they Tweet, their Tweets will show up here.