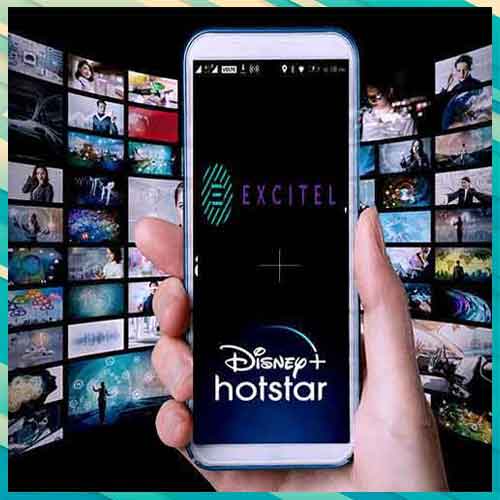 Excitel, the leading home internet startup in India has announced a strategic association with Disney+ Hotstar, to offer access to premium content for its subscribers. With Excitel's new bundled plans, users can now enjoy their favourite shows, movies, and live sports on Disney+ Hotstar at just INR 599 per month, without any extra charges. This collaboration marks an exciting milestone in the evolution of home entertainment, offering users a seamless and immersive streaming experience at high-speed internet.
With this new offer, subscribers can escape the limitations of viewing content on just one device and instead indulge in simultaneous streaming on two devices at any location and time. Whether it's on a mobile device, laptop, or living room device, Excitel supports seamless streaming on a wide range of supported devices.
"We are delighted to collaborate with Excitel, bringing the expansive collection of premium content from Disney+ Hotstar to a fresh audience. This collaboration allows Excitel subscribers to enjoy a seamless entertainment experience, embracing a captivating blend of best-in-class local and international content across multiple devices," said Gurjeev Singh Kapoor, Head – Distribution & International, Disney Star.
Speaking on the partnership, Vivek Raina, CEO & Co-Founder, Excitel, said, "We have associated with Disney+ Hotstar, the leading OTT platform in the country, bringing users an exceptional streaming experience at unbeatable speed, i.e 400mbps. We are ready to fuel the anticipated growth of India's entertainment and broadband industries, giving Indian users and families access to a comprehensive entertainment package at an incredible price. To fully enjoy the 4K content and uninterrupted live streaming of sports events, a reliable and fast internet connection is crucial, and we look forward to offering fast paced internet combined with the best of content."
Excitel's new bundled plan currently offers an exciting package, including 400 Mbps speed, 12 OTT channels, and over 550 TV channels. In addition, they had recently announced an annual plan at just INR 999/month, featuring 300 Mbps Wi-Fi speed, 6 OTT app subscriptions, 300+ Live TV Channels, and a 32" Frameless Smart LED TV to provide users with exceptional viewing experience.
See What's Next in Tech With the Fast Forward Newsletter
Nothing to see here - yet
When they Tweet, their Tweets will show up here.