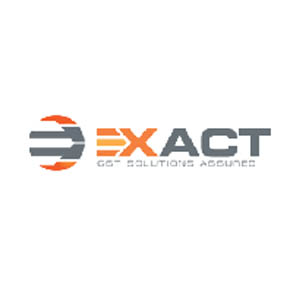 Excellon Software's Exact SUITE ASP/GSP solution has joined hands with Sage Software Solutions to provide ASP/GSP Solution to Sage customers. EXACT GSP suite offers a one- stop GST Automation and compliance platform with a comprehensive set of support services. The platform has a user-friendly and interactive interface to make sure the user experience is seamless. EXACT SUITE will provide the necessary technology infrastructure to Sage Software Solutions, so that they can ensure smooth transition of their clients to adapt to Goods and Services Tax (GST) compliance and return filing.
Excellon Software is GST Suvidha provider that offers a robust, reliable and responsive solution that is designed to provide a hassle-free GST migration especially for large and medium enterprises. The EXACT SUITE solution creates an interface with the SAGE ERP to help in tax preparation and filing process. The major benefits for any company using EXACT are minimum time and effort for tax filing, easy uploading of invoice data, matching of its purchase data and most importantly getting a single stop shop for all GST-related services. In collaboration with Sage Software, Exact GSP solution will give the end-customers flexibility to access the GSP solution anytime, anywhere. The solution can be configured as per the customers' business process and utility.
Vinod Tambi, Co-Founder and COO, Excellon Software, said, "As a GSP, Excellon Software will provide technology platform to Sage customers to upload and reconcile data along with filing GST returns and infrastructure to ensure other GST-related compliances. We've created a highly scalable and secure GSP solution that is designed to provide an easy GST migration especially for large and medium enterprises. EXACT GSP Solution has a large data volume handling capacity, and most importantly offers a comprehensive solution for all GST related services. This enterprise-grade software also provides absolute data security, and single tenant databases, apt for enterprises. It is designed and backed by a team having more than a decade of vast experience in large deployments on the cloud for enterprises."
Speaking about the partnership, Jitendra Somani, CEO of Sage Software Solutions, said, "Sage has been at the forefront of bringing competitive advantage to its businesses by making accounting simple and efficient with its next-generation on-premise as well as Cloud solutions. Our experience and expertise with making Accounting seamless for SME and enterprise customers gives us a unique advantage. Our association with Excellon Software empowers our customers us to get secure and reliable technology support which has been the hallmark of Sage Software. The system has provision for auto-scaling, which involves varying server availability to cope with demand. Our collaboration with Excellon Software will help empower our customers with technologies that can ease business processes and complement their growth trajectory."
Tags: Exact GSP, Sage Software, ASP/GSP Solution, asp solution, gsp solution, Goods and Services Tax, GST, Vinod Tambi Excellon Software, EXACT GSP Solution, Jitendra Somani CEO Sage Software Solutions
See What's Next in Tech With the Fast Forward Newsletter
Nothing to see here - yet
When they Tweet, their Tweets will show up here.