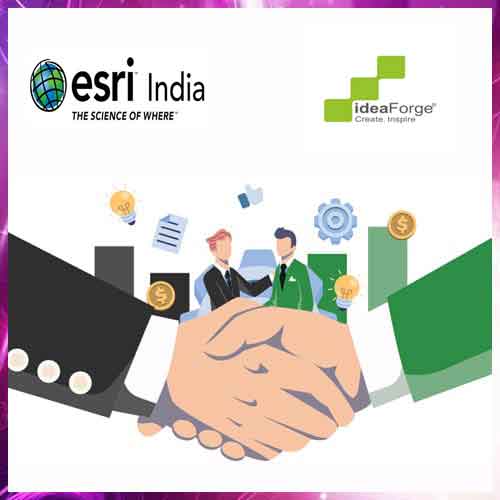 Esri India, the country's leading Geographic Information System (GIS) Software & Solutions provider, today announced the signing of a Memorandum of Understanding (MOU) with ideaForge, a market leader in the Indian Unmanned Aircraft Systems. The objective of this partnership is to boost the adoption of drones in India.
The partnership between Esri India and ideaForge will allow users to deploy drone solutions with GIS to solve complex problems in AEC, forestry, agriculture, mining, transportation, utilities, and defence. Drone users in India primarily face the difficulty of working with different firms for meeting their hardware, software, training, and services requirements. Shortage of skilled workforce is another area of concern. This partnership will resolve these challenges to a great extent. The users will also be able to achieve seamless integration of drone videos and photos for advanced GIS applications, establish SOPs and standard workflows, and develop solutions for motion imagery, live streaming, and more. 
The partnership will also help enterprises and government agencies to meet their essential drone-based requirements, both in terms of drone flying and GIS. This will reduce the complexity of engaging multiple vendors and foster higher adoption of drones in India, bringing multiple solution components under one umbrella.
Agendra Kumar, Managing Director, Esri India said, "India is placing great importance on using drone data for effective governance and growth. Several sectors such as forestry, agriculture, insurance, surveying & mapping, among others, are already taking advantage of the liberalized regulations and adopting drone technology for data collection. As the use of drones increases, there arises a need for integrated solutions that can provide a complete, end-to-end workflow for acquiring and processing drone imagery, processing the data, and gathering useful insights from the same for informed decision-making.  Esri India's partnership with ideaForge will help drone users benefit from such integrated solutions, including Drones & GIS, curated by the leaders in their respective fields. The bundled solution will help the users to achieve time and cost-effectiveness in their drone data collection, processing, and analysis efforts. We aim to also provide extensive support in training."
Ankit Mehta, CEO, ideaForge stated, "We are thrilled to be collaborating with Esri India. This collaboration will assist ideaForge and Esri India in designing an integrated Drone and GIS software solution for the Indian market. Through this collaboration, ideaForge and Esri India can offer GIS software with ideaForge products to various customers in India via integrated solutions."
See What's Next in Tech With the Fast Forward Newsletter
Nothing to see here - yet
When they Tweet, their Tweets will show up here.