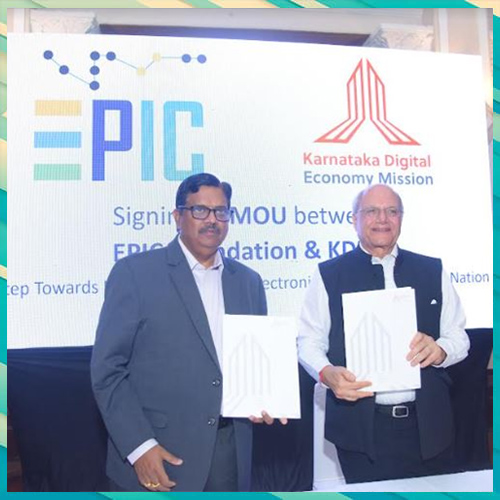 EPIC Foundation founded by industry veterans and Cofounders of HCL Dr Ajai Chowdhry and Arjun Malhotra unveiled its vision aimed at transforming India into as an Electronic Hardware Product Nation. With a highly skilled young workforce and competitive wages coupled with the right geopolitical nudge, the foundation believes India can become the next design and manufacturing destination, thereby contributing to making India a US $400bn Electronics industry.  
As part of its vision, the foundation announced the launch of two products –  a) an LED Driver chip that is designed by a startup in Bengaluru and ready to go into production to replace a Chinese chip and; b) first 100% Designed in India Tablet for education and social empowerment with unique features of repairability and upgradability, developed on the principles of repair-reuse-recycle – not found in any other imported tablet.
The foundation also signed anMOU with Karnataka Digital Economy Mission (KDEM) and is presently in advanced discussions with several other academic institutions, with an aim to develop distinct "Designed in India" products catering to 1.4 billion Indians. The MOU with KDEM was signed by Dr. Ajai Chowdhry and Shri BV Naidu, Chairman, Karnataka Digital Economy Mission. EPIC Foundation recently entered into an MOU with the Andhra Pradesh Electronics and IT Agency (APEITA), whereby the foundation will be advising and enabling APEITA on technical and strategic interventions with an aim to strengthen the electronics sector in the state.  
Dr Ajai Chowdhry, Chairman, EPIC Foundation and Member of the MeitY task force to realise India's potential to become a Product Nation said, "Creating a robust design & manufacturing ecosystem requires tremendous amount of support from all stakeholders. EPIC Foundation aims to be the interface between Industry and State Government with MEITY, Niti Aayog DST and DPIIT to address key challenges and recalibrate the policies. Solidifying its commitment to move the nation up the value chain to be at the forefront of design, manufacturing and production, EPIC Foundation will work towards enabling critical Global Collaboration with Key ESDM regions like Taiwan, South Korea, Israel, Japan and the USA" 
The announcements came in the presence of Shri. Amitesh Sinha, Joint Secretary Ministry of Electronics and Information Technology; Shri. BV Naidu, Chairman, Karnataka Digital Economy Mission; Sanjeev Gupta, CEO, Karnataka Digital Economy Mission;  Mohandas Pai, Chairman Aarin Capital and Manipal Global Education; Sharad Sharma, Co-founder iSPIRIT; Amrit Manwani, CMD, Sahasra Group and other eminent guests from Industry, government, and Academia.  
Shri. Amitesh Sinha, Joint Secretary, Ministry of Electronics and Information Technology said, "The largest part of the value chain is product designing, is a concept where the design company has full control over the entire value chain including selection of materials, vendors for component manufacturing and finally selling of the product. The concept itself is very important.  The increased demand for electronic hardware products is boosting the market size. Focussed government schemes on product manufacturing are being deployed. We have the right talent pool. Time has come to make India's own products."
See What's Next in Tech With the Fast Forward Newsletter
Nothing to see here - yet
When they Tweet, their Tweets will show up here.