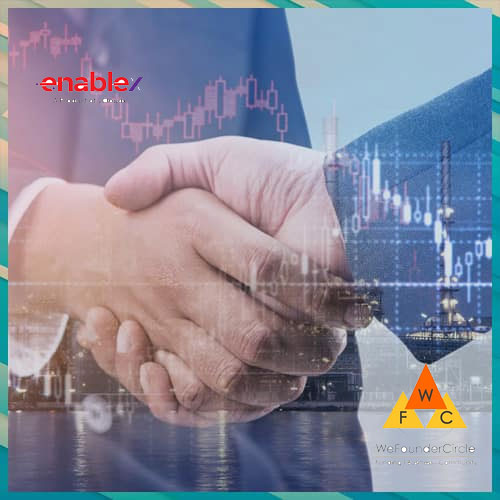 EnableX.io has announced a strategic, future-forward partnership with the We Founder Circle, a global community of successful founders and strategic investors keen to help early-stage startups grow.  
As a part of the collaboration, the EnableX leadership team will work closely with We Founder Circle to guide and curate the scaling-up journey of many early-stage startups. There will be special pricing and support to enable startups implement communication capabilities within their solution and help them strengthen their business functions. Over and above this there will be consultation sessions to assist startup clients in incorporating and designing solutions for their businesses.  
The collaboration results from the shared vision and commitment of Pankaj Gupta, Founder, and CEO, EnableX, and the company leadership team. As an angel investor and a successful serial entrepreneur, Pankaj has created and scaled-up multiple successful IT and telecom businesses. EnableX was born out of his passion for real-time communication and the avenues it opens for the future.  
Pankaj Gupta shared, "We Founder Circle is the number one angel investor network in India. Joining hands with such powerful and innovative thinkers, our experienced leadership team and I look forward to supporting this mission with resources and creating opportunities to fuel up ambitious business growth."   
Neeraj Tyagi, CEO, We Founder Circle, added, "Our collaboration with EnableX is valuable as we see that our mission of supporting the startup ecosystem in the country will have the involvement and strength of the experienced leadership team. We see this team enabling digital transformation and accelerated innovation to establish numerous home-grown new businesses. Pankaj being both, an entrepreneur and an investor would add immense value to our young startups' journey to success. We look forward to having Pankaj and his team work closely with our ecosystem." 
This strategic partnership aims to be the driving force of the startup ecosystem in India through knowledge sharing and creating opportunities by involving leading innovators, entrepreneurs, and investors. It will play an essential role in providing startups with access to cutting-edge technology, mentorship, and tools they require to accelerate their innovation agenda.   
See What's Next in Tech With the Fast Forward Newsletter
Nothing to see here - yet
When they Tweet, their Tweets will show up here.