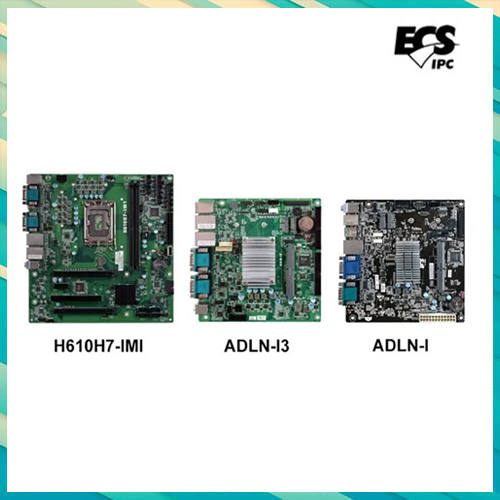 ECS Industrial Computer (ECSIPC), the subsidiary of the leading motherboard and computer manufacturer Elitegroup Computer Systems (ECS), has introduced its new motherboards H610H7-IM1, ADLN-I3, and ADLN-I for various industry applications.  
To meet the diverse needs and purposes of various applications, ECSIPC is delighted to announce the launch of the H610H7-IM1, featuring dual PCI-E x16 expansion slots. In addition, the new ADLN-I3 motherboard offers an extensive array of I/O, including 10 COM ports specifically designed for a wide range of industrial applications. Furthermore, the Mini-ITX SoC motherboard, ADLN-I, offers abundant connectivity options and remarkable flexibility. 
H610H7-IM1 
The H610H7-IM1 motherboard focuses on vertical application industries, with a design featuring dual PCI-E x16 expansion slots. It is particularly suitable for smart transportation, such as automated safety detection (e.g. railway safety, parking lot management), and smart manufacturing (e.g. factory defect detection). This enhances security and reduces human errors. 
The motherboard supports the 12th and 13th generation Intel Core processor families, as well as Pentium and Celeron processors, delivering the powerful performance. Whether it's based on the Alder or Raptor Lake-S LGA1700 architecture, it will bring an incredibly impressive computing experience. The motherboard also supports DDR4-3200 long DIMM memory, with a maximum capacity of up to 64GB. No matter what computing demands in any industrial application, it can easily handle and run smoothly. 
The motherboard's triple display outputs (DisplayPort, HDMI, VGA) are perfect for digital signage and multi-display requirements. With built-in dual Gigabit and 2.5 Gigabit Ethernet, it brings you high-speed connectivity. The motherboard offers rich features for various industrial applications, boasting 10 COM ports to perfectly meet a variety of industrial automation control needs. Whether it's for visual computing or monitoring devices, this motherboard effortlessly accommodates diverse applications. Additionally, the motherboard features a dedicated TPM interface, ensuring enhanced security and protection for various operations and data transmissions. 
● ADLN-I3  
The ADLN-I3 motherboard is designed with a focus on vertical application industries. Its 10 COM design is particularly well-suited for industrial IoT environments and monitoring and detection applications, such as environmental temperature monitoring, water temperature and quality monitoring, factory equipment data collection, and multi-sensor applications. The monitoring system aids in preventing abnormal situations, ensuring the stable operation, while reducing costs and alleviating manpower needs. 
Supporting Intel Alder Lake-N processors with a maximum TDP of 15W, it brings an unparalleled computing experience. The motherboard supports DDR4-3200 SO-DIMM memory with a capacity of up to 16GB, enabling smoother handling of multiple tasks. 
The motherboard features M.2 multiple expansion interfaces, including 1 M.2 M Key and 1 M.2 E Key, provide expansion possibilities for your system. With 10 COM interfaces designed specifically for various industrial applications, it caters to industrial automation control needs to the fullest. The integrated parallel port (LPT) header further extends your functional requirements, bringing greater convenience for connecting and utilizing peripheral devices. 
● ADLN-I 
The ADLN-I motherboard is designed with a focus on vertical application industries. Its triple display support (DisplayPort, HDMI, VGA) is particularly suited for digital signage and various smart retail solutions, such as station information display, department store advertising broadcasts, and digital signage in major medical institutions. 
The compact motherboard supports Intel Alder Lake-N processors with an energy-efficient design, featuring a TDP of 10W. Combined with its rich I/O support, it's an ideal choice for cost-effective and space-saving solutions. The motherboard not only supports DDR4-3200 SO-DIMM memory with a capacity of up to 16GB, but also features extensive I/O interfaces and functions, catering to industry expansion needs and the functionalities required for external peripherals. 
In terms of power supply options, the motherboard supports both ATX and DC_IN dual power supply modes (select one for shipping), offering greater flexibility and stability in choosing power sources for different industrial application needs. Regardless of the industry scenario, this motherboard is designed to meet your requirements. 
See What's Next in Tech With the Fast Forward Newsletter
Nothing to see here - yet
When they Tweet, their Tweets will show up here.