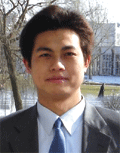 The images we see on our monitor are made of tiny dots called pixels. A screen displays over a million pixels, and the computer has to decide what to do with every one in order to create an image. To do this, it needs a translator – something to take binary data from the CPU and turn it into a picture, which we can see. Unless a computer has graphics capability built into the motherboard, that translation takes place on the graphics card. The CPU, working in conjunction with software applications, sends information about the image to the graphics card. The graphics card decides how to use the pixels on the screen to create the image. It then sends that information to the monitor through a cable. 
Graphics cards have come a long way since 1981. Gone are the days of Monochrome Display Adapter (MDA), the card that provided text-only displays of green or white text on a black screen. Today, the minimum standard for new video cards is Video Graphics Array (VGA), which allows 256 coloElitegroup Computer Systems (ECS) has unleashed its range of NVIDIA GeForce FX GPUs in India. Following are the excerpts of VARIndia's talks with Mr. Boyce Lin, Account Manager – India, EliteGroup Computer Systems on the newly launched range. 
Please elaborate on the launch of your new series of VGA Cards in India? 
After a careful study of the customer's preferences and buying'trends, we are initially offering only select models, including NVIDIA GeForce N5200-128TT, N7300LE-128TY, N6600LE-128DV and N6600LE-268DY GPUs in India. We will soon launch other models including ECS 8800GT, 7950GT and 7900GT series.
Is it a global launch or just Indian market specific? 
This is a part of the global launch. But we have launched only a limited number of models initially. In addition, we have announced an exclusive distributor, Mediatech India Distribution Pvt. Ltd. for India. 
How are these cards priced? What about the service support and warranty policy? 
The prices for the four VGA Cards recently launched in India are as follows:
N5200-128TT – Rs.2,350/-
N7300-128TY–– Rs.3,195/-
N6600LE-128DV –– Rs.4,140/-
N6600LE-268DY - Rs.4,715/- 
At present, we offer two-year warranty for VGA cards.
Do you feel that the launch of VGA cards should be country specific (keeping in mind the market trends, climate, infrastructure)? 
India is an important market for ECS and we have spent considerable time in understanding customer preferences here. That is why we have launched only certain models like the N5200-128TT and N7300-128TY initially. More models will follow soon. 
Who do you see as your competitors in India? 
There is a considerable shakeup in the motherboard market in Taiwan. ECS is perhaps one of the few companies that has withstood this market shift due to its product lineup and financial strength. As of now, all the major motherboard vendors are operative in India, but we are not particularly positioned against any one single vendor. Instead, we focus on delivering customer value through attractive pricing, innovative product packaging and prompt and effective support service. 
Throw some light on your distributorship strategy (in terms of distributors/ partners) for these new products in India?
Currently, we have an exclusive distribution arrangement for ECS VGA cards with Mediatech India Distribution Pvt. Ltd. in India. 
How important partners are for ECS? What all initiatives you take towards partner's profitability?
At present, Mediatech India Distribution Pvt. Ltd. executes ECS channel MB and VGA card business. We are working on a number of schemes closely with Mediatech India to deliver higher value to our channel partners.
Are they available now or shipment will take some time?
The NVIDIA GeForce N5200-128TT, N7300LE-128TY, N6600LE-128DV and N6600LE-268DY GPUs are all shipping currently. 
How good is your presence in the B & C class cities?
We have a sizeable presence in the B & C class cities and are working on improving it in close association with our distributor Mediatech India. ECS will also continue to work with the leading vendors like Intel to run local road shows in the B & C cities to enhance our brand value and presence. 
How promising the VGA Cards market is in India? What is your current market share? 
India is emerging to be a very promising market segment for ECS VGA Cards. But we have just launched our VGA cards in India and it would be premature to comment on the market shares so soon. 
How has been your journey in India so far? What are your expectations following this launch six months down the line?
After I started to handle the Indian market three months ago and have been to India twice already. My mission is clear – let more and more Indian customers enjoy the true value of ECS products and help the company achieve best market share. And due to our close relationship with NVIDIA India, I look forward to expanding the market share for our VGA cards as well.
See What's Next in Tech With the Fast Forward Newsletter
Nothing to see here - yet
When they Tweet, their Tweets will show up here.