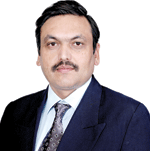 Inderjit Sehrawat 
Managing Director 
DVTEL INDIA PVT. LTD.


What is the size of the surveillance and security industry? How much belongs to surveillance cameras?
It is generally accepted that this is a fast-growing industry and Video Surveillance is a very large chunk of this industry. Also, the industry is becoming mature and the requirement of the enterprise-grade CCTV is growing fast. The size of the enterprise CCTV industry in India is  of Rs.200 crore just from the surveillance products perspective. Two very strong trends, which have emerged in the enterprise-grade CCTV market in India, are a major shift from analog to IP and now a shift from Standard Definition to High Definition cameras.
For how long have you been in the surveillance business? 
We have been in this business in India for more than six years now. We came to India, when the requirement for enterprise-grade IP CCTV was just beginning to show up. According to a recent survey, we are rated as No. 1 player in the industry for the Video Management Software and in the top two for IP cameras. Looking from a different perspective, we got the honour of deploying our solution in most of the large, complicated and marquee projects in India, including three large airports, all the 33 stadiums used in Delhi for a major sports event, very large parts of Delhi city, including most of the open markets and other iconic buildings, global multinationals, Oil & Natural gas majors, the largest casino, large university campuses, first metro railway that decided to go for modern IP solution, etc. It has been a very satisfying and fulfilling journey for us so far in India. We have been consolidating and strengthening ourselves, as we went through this journey and I can say with a lot of pride that DVTEL INDIA is now among the largest and most professional teams of this industry serving our esteemed customers.
How many models do you have in this category?
We have about 100 different models, as we cover the entire spectrum of the enterprise- grade IP camera requirements. We offer fixed box, fixed dome and PTZ cameras in Standard Definition as well as High Definition. We also offer cameras with different mounting and lens options. We are almost able to meet all the requirements of the customers, whether it is for indoor conditions or outdoor conditions. Our outdoor cameras are able to sustain temperatures up to 50 degree C. These outdoor cameras are also IP66 rated and so are able to take care of the ingress protection requirements of most outdoor installations in India. Some of these cameras are coming with IR LEDs as well.
How do you differentiate your products from the traditional CCTV cameras? What is the USP of your cameras?
We are competing in the market of high-end "No compromise" specification IP cameras. The main USP of our cameras is the high processing power and very low requisite bandwidth, even at Broadcast quality video streaming. We can provide a really low Total Cost of Ownership to a customer. Further, the video quality of our new series of Quasar cameras is seen to be believed. They are considered to be the first broadcast quality CCTV cameras of this industry. These cameras deliver the broadcast quality video with perfect colour reproduction, no artefacts and no pixilation in the most trying circumstances of very high motion and low light. We encourage our customers to do the shoot outs of these cameras, in trying circumstances, to test our claims. In large installations like City Surveillance, it can drastically reduce the CAPEX as well as the OPEX requirements of the customer.
What is the business potential for vendors?
There is enough business for a few good vendors in India. I strongly believe that a good competition is very good for the vendors as well as for the end-customers. Together, we can move the industry to the heights of maturity.
What are the opportunities for the channel?
There is a lot of opportunity for good channels, as this business runs via channels. All the business that DVTEL does in India is via System Integration Partners. They are very important cog in our marketing strategy. There is great opportunity, at this stage of the market, for some integrators to position themselves as mature, knowledgeable and trained organizations, which don't adopt any short cuts and work towards a long-term customer satisfaction rather than the short-term goal of customer acquisition.
Who are your customers as of now? Are you looking at adding new verticals to your existing list?
We have a very large and varied installation base in India. Our customers range from Airports, Railways, Ports, Metro Rails, City Councils, Police organizations, Oil, Gas and Power companies, IT companies, Gaming and Entertainment verticals, Manufacturing Units, etc. We are looking at City Surveillance as a large opportunity, once the procurement process becomes mature. 
See What's Next in Tech With the Fast Forward Newsletter
Nothing to see here - yet
When they Tweet, their Tweets will show up here.