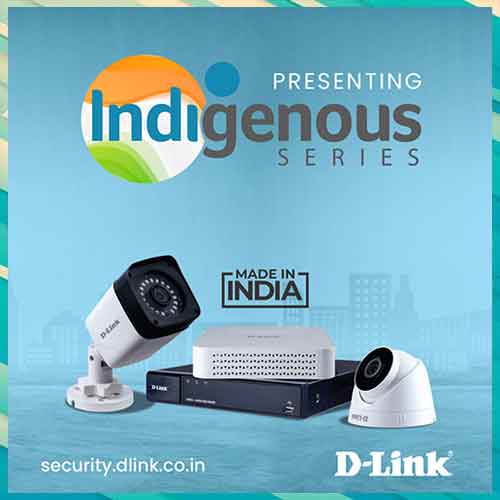 D-Link, a global leader in networking and connectivity today announced the launch of its Made in India range of Surveillance solution christened 'Indigenous Series'. As the name suggests D-Link Indigenous series range includes surveillance solution that is designed & manufactured in India. This is in line with D-Link's commitment to governments 'Make in India' vision, that focuses on local manufacturing. D-Link Indigenous series includes a range of IP based Cameras and Network Video recorders that have been crafted to perfection in India and designed keeping in mind the security concerns of every Indian.
Speaking about D-Link Indigenous Series, Rohit Purushottam, Sr. Vice President - Enterprise Business at D-Link (India) Limited said, "D-Link has been providing end to end networking solution for over three decades. Our surveillance solutions are already well accepted amongst partners & customers across the country. Now with D-Link Indigenous series we have gone a step further by leveraging on the business intelligence gathered in India and have designed an extensive surveillance range that's aptly suited for Indian market conditions. D-Link Indigenous series will cater to all customers across different segment, as this premium range of surveillance solution is feature rich & is backed by our emphasis on product excellence."
Sharing his view on the go to market approach, Abhishek Kumar, AVP – SMB & Surveillance Business at D-Link (India) Ltd. said, "With D-Link Indigenous series we have created a product line that we are extremely proud of, as it is designed & locally manufactured to address the security concerns of every citizen. We are confident that through our well-established network of distributors & installers we shall efficiently address the growing demand for convenient & reliable security solutions. For our partners we also have designed special incentive programs, along with exclusive training & certification to ensure a profitable business association."
D-Link Indigenous series offers an extensive range of IP based surveillance Cameras and Network Video Recorders (NVRs) that are packed with advance features, offers robust built, and most importantly is backed by D-Link's emphasis on quality. Further D-Link Indigenous series is supported by D-Link VISION App that enables customers to view their cameras and receive instant alerts when motion is detected. D-Link VISION app features a user-friendly interface that makes it easy to set up and use.  Plus, with advanced features like two-way audio and night vision, you can communicate with anyone on the other end of the camera and get clear footage even in low-light conditions.
D-Link Indigenous series is a complete surveillance solution that includes a range of Dome IP Cameras, Bullet IP Cameras, Network video recorders and is supported by an exclusive D-Link VISION App for easy monitoring.  
Availability: D-Link Indigenous serious is available across the length & breadth of the country through D-Link Network of Business Distributors, System Integrators & its exclusive Surveillance Partners.
See What's Next in Tech With the Fast Forward Newsletter
Nothing to see here - yet
When they Tweet, their Tweets will show up here.