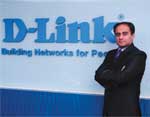 Tushar Sighat
CEO
D-Link (India) Ltd
From networking to IP surveillance, how does D-Link position the offering?
We, at D-Link, have always laid emphasis on the fact that we are a complete end-to-end networking solution provider. The product portfolio of D-Link consists of Networking Switching, Wireless LAN, Routing, Network Security, IP Surveillance, Network Storage, VoIP, Broadband and Cabling. IP Surveillance these days has become a key component in the infrastructure of a company. Moreover, some of the recent gruesome incidents have triggered the need for an effective surveillance system. Many large enterprises, corporates and even education institutes are investing in securing their premises from all kinds of possible external threats.
D-Link carries a complete portfolio of IP Surveillance. It is also focusing specifically on consumer space, as Surveillance these days is not restricted to businesses alone, and home surveillance has become a major concern for many. As a result, D-Link will very soon be introducing its highly ambitious service called as "mydlink".
What is the market size and potential of IP surveillance in India?
IP video surveillance is a key business tool for ensuring smooth operations, general security, preventing loss and controlling mischievous activity. It is steadily emerging as one of the most compelling investment areas, creating a whole new market for networking resellers and integrators. The current technology trend in the surveillance space and some of the recent market reports suggest that IP video surveillance equipment market globally was estimated to be at over $800 million in 2010-11 and over $45 million in India alone. As per industry estimates, the market is projected to grow at a CAGR of 30.2% approximately over the next five years and is likely to be worth over $3 billion by 2015 globally.
How different D-Link plans to tap the potential?
Being a channel-driven company, D-Link will continue to work closely with its set of business distributors and resellers nation-wide. These partners are already offering varied networking solutions to their customers like routing, switching, cabling, etc. So, for them, it is just about taking that extra step and start offering IP surveillance solution to the same customer. In order to promote IP surveillance amongst these existing partners, D-Link will conduct special seminars/ training programmes to educate them better and equip them with the required skill set to promote Surveillance business further. Moreover, we are also exploring tie-ups with partners and SIs for exclusive business partnerships. D-Link has already made some concrete business plan to promote our IP Surveillance offerings, as our plan is to garner 40% of the market share in next couple of years and position D-Link amongst top three Surveillance brands in the country.
What is the USP of your offering?
With an eye for the future, D-Link IP Surveillance solution boasts the highest degree of scalability and can easily adapt to the existing IP infrastructure of the client. The advanced features such as high security encryption, superb image quality, digital zoom and remote accessibility - leverage the most cutting-edge technologies available today. D-Link, at present, has a host of High Definition IP Surveillance cameras that include Full HD Indoor dome cameras, Full HD Indoor Box cameras, HD Vandal Proof cameras and HD Consumer cameras.
Would you be roping in a new bunch of partners?
In order to concentrate on this special business segment, we, at D-Link, have formed a dedicated sales and solution support team offering customized IP surveillance solution, as per the customer requirement. D-Link is currently focussing on verticals like Government, Education, Retail, Travel and Manufacturing and is also working on large-scale projects. Further, we are also looking at mapping partners who will help us to focus on this segment and these partners will be known as "Certified D-Link IP Surveillance Partners". Additionally, D-Link will soon be rolling out training and certification programmes, which will fully equip partner to meet the consumer demand effectively in the Surveillance space.
How would you address post-sales service?
Our sales operation is divided into four regions with 17 offices. Every region has a dedicated post-sales and presales team. All our branch offices are well equipped with technical manpower and zonal proof of concept (POC) labs for all kinds of presales and post-sales support under the supervision of Regional Technical Manager (RTM). Hence, all customer queries from smaller towns are served by the nearest D-Link service centre. Also, all the technical and service-related queries are addressed through our 22 service centres in the country. We have recently introduced a 12x7x365 days toll-free No. 1800-22-8998 for all kinds of technical assistance. With this, D-Link will now be in a position reach out to customers present even in smaller towns and cities. Further, D-Link has tied up with Kaizen Info Services Pvt. Ltd. as D-Link's authorized service partner, and vCustomer looks after the D-Link Technical Assistance Centre (DINTAC).
Syeda Beenish
beenish@varindia.com
See What's Next in Tech With the Fast Forward Newsletter
Nothing to see here - yet
When they Tweet, their Tweets will show up here.