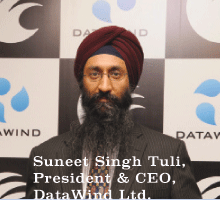 How does DataWind see the Internet revolution in India? 
We strongly believe that the Indian telecom market is the fastest-growing market in the world today. A quick glance at the Indian telecom sector will show that it has over 1.5 crore new subscribers each month and majority of the metropolitan cities now exceed 100% penetration. These figures clearly indicate that today mobile phone subscribers in these cities are larger than the total inhabitants there. This massive transformation, to most of us, may look obvious, but ten years back this was not the case. Most of us would just say that we have landlines at offices and homes and tagged mobile was the symbol of the elite class. Cellular revolution at that time was not heard of.
We hear similar excuses right now about computers and Internet. Today, both computers and Internet are very expensive and beyond the reach of a common man. Most of us think that why should I bother buying one, since there is already one at work or that there is an Internet café conveniently located almost everywhere. The masses can't afford to spend Rs.25,000 on computers, and Rs.6,000 as annual Internet cost. The cost barrier needs to be broken. DataWind has thrown the gauntlet in this regard and challenged the industry with an aggressive price war. We have recently launched the UbiSurfer, a Internet-connected netbook, with the Microsoft Windows CE operating system and powerful softmaker office suite, at the industry's most aggressive price of Rs.7,999. It not only includes the UbiSurfer netbook, but also includes a CDMA modem and Tata SIM. Just that would make it India's best priced netbook, but DataWind realizes that computers, notebooks and netbooks have really a limited value without Internet connectivity. So, the UbiSurfer comes bundled with a year of Internet access free of charge, at 30 hours per month.  
How is Datawind catalyzing the Internet penetration in the country?
With the telecom revolution in India, generating over 15 million new mobile phone subscribers each month, now surpassing 500 million, it will not be unreasonable to assume that the Internet revolution is not far behind. While costs and the lack of landlines have restricted Internet penetration, DataWind's solution takes advantage of the broadly available Indian CDMA GPRS networks and helps overcome the cost inhibitor by providing free usage. DataWind's free mobile Internet will truly be the next big thing.
DataWind's latest launch in India UbiSurfer not only includes the UbiSurfer netbook, but also includes a CDMA modem and Tata SIM. The consumer does not need to worry about expensive monthly fees, purchasing separate dongles or having to configure them.  It all comes pre-bundled and pre-configured in the UbiSurfer, for only Rs.7,999. The Indian Internet revolution is about to begin, and DataWind intends to lead it.
What is your go-to-market strategy?
DataWind has an aggressive marketing strategy to create interest in the right target audience. Apart from individual users, we are targeting institutional customers and enterprises with workers on the move. We are also working hard on penetrating into smaller cities where Internet cafés still dominate. In order to create consumer awareness, we are using TV infomercials and home shopping as the primary marketing strategy. To drive sales, we have collaborated with direct sales agents, independent retailers and e-commerce platforms. Mumbai-based Sunrise Distributors is our national distributor who will reach out and create a large network of independent retailers and e-commerce partners. Along with this master plan, we are trying to zero in on regional sub-distributors to penetrate into tier 2 and 3 cities.
What are your current revenues and what is the targeted growth? How do you see the future?
We are not a public limited company. Hence, we won't be able to share any revenue figures, but rest assured the growth is exponential each year. We started off in UK central London and right now we have spread our wings across Australia, Germany, Spain, India and very soon a big news will be coming up for the USA. With the telecom revolution already sweeping India, generating over 15 million new mobile phone subscribers each month, now surpassing 500 million, it is not unreasonable to assume that the Internet revolution is not far behind. 
How do you see the rollout of 3G or WBA?
3G coverage in India right now is negligible. Even if it is fully launched by the end of the year or May next year, the main concern here will be the network coverage that majority of the areas will receive and the cost will be a major factor. However, we will wait for the right opportunity to introduce a 3G product in the market keeping all the concerned factors in mind.  However, as the modem cost of 3G is more, it will be priced accordingly. We don't recommend to consumers to pay double or triple the cost of the product to get 3G today, when there is no real network yet.
Share details about your any recent product which is well received by the market?
Our recent launch in the Indian market UbiSurfer- 7 has been received magnificently and applauded as well in the market. We, at DataWind, via our aggressive network, are spreading our web across India with the help of authorized distributors and selling channels.
The UbiSurfer offers DataWind's revolutionary free-usage model, which eliminates the complexity of getting online. For heavy users, unlimited Internet is available for only Rs.99 per month and each subsequent year of usage is only Rs.999. By setting a new standard for anytime and anywhere Internet access, the UbiSurfer is not only armed with Wi-Fi and LAN connectivity, but also has an in-built cellular modem and an embedded SIM card that allows access to the Internet anywhere a mobile phone signal is available all over India. 
For more contact:
beenish@varindia.com
See What's Next in Tech With the Fast Forward Newsletter
Nothing to see here - yet
When they Tweet, their Tweets will show up here.