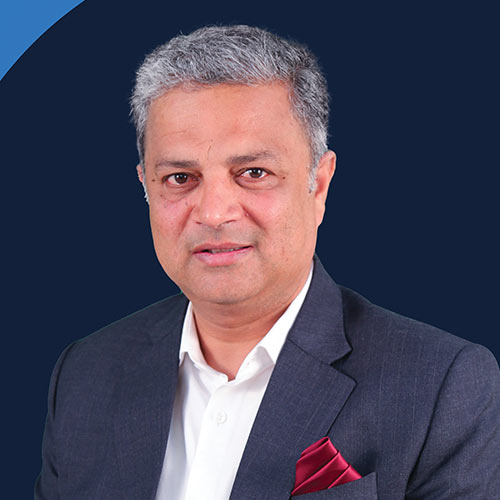 Marketing is an integral part of any organization and also an effective way to promote any product or service. Over the years various forms of marketing have come up and have evolved every day. Modern day marketing has various forms but the most important factor is to predict customers' desire and their buying habits. This will further help marketers to chalk out strategies and campaigns in a better way. Not only this, a collaboration between sales and marketing is required in order to make brands strong and campaigns efficient.
Naved Chaudhary, Head of Marketing, Ingram Micro India, an astute and a result oriented professional who brings a wide experience of over 20 years spanning over multiple assignments in Marketing Communications & Brand Management discusses with VARINDIA about marketing trends in 2023 and ways to make marketing more effective. He is an expert in launching new products and also has experience working in the areas of brand management, retail and channel marketing.  
What marketing trends do you foresee that would be in focus in 2023?
In 2023, the mindset may transition from technical based marketing to anticipatory marketing. This will help marketers to predict what their customers' desire and what are their marketing and buying habits, and accordingly feed that information into automated processes to design the marketing strategies and campaigns. This new way of thinking and planning will not only make things more efficient and result in better ROI, but it will also allow to do personalized campaigns. We are constantly experiencing a systematic and dynamic movement in technology, which will only increase in the future. Key points are as below –
Performance Marketing which is a result driven digital marketing is going to gain momentum. Under Performance marketing brands only pay marketing service providers once their business goals are met or when specific actions are completed, such as a click, sale, or lead etc. It's a marketing activity based solely on the performance. 

Influencer marketing will evolve into a common marketing tactic. Influencer Marketing picked up steam in 2022, and looks this trend will keep its pace in 2023 as well. When marketers collaborate with influencers and industry thought leaders in their industry, they can expand brand awareness and gain fans from the influencer's own audience.

Social media will become a customer service tool. Leveraging social media as a customer service tool is relatively new, but this trend is quickly gaining steam.

Aligned marketing and sales teams will win. As we execute marketing strategies for 2023, it is becoming increasingly crucial for sales and marketing teams to work together. When these teams are aligned, marketers can get a more complete picture of their customers, including their interests, hobbies, and demographics to design better marketing strategies.

Experiential marketing is gaining pace and many marketers are making use of the same. Experiential marketing campaigns enable audiences to step into an immersive experience that is often in a physical place or via an AR/VR platform.
Video will remain the top marketing content format as video creates a deeper connection with your potential customer base. With a lower-cost barrier, video has become a more efficient tool.
How marketing can be made more effective in the current scenario?
Collaboration between sales and marketing is the key to building a strong brand and efficient campaigns. Combining sales and marketing aspects assist in the establishment of a consistent customer experience and enable resource pooling, effective spending etc. Collaboration between sales and marketing, business departments is becoming increasingly important. When these teams work together, marketers may gain a more complete view of their customer's interests, hobbies, buying behaviours and demographics. When this does not happen, it causes a slew of issues for everyone concerned. Most notably, it is more difficult to exchange and access data across teams.

Sales and marketing teams have traditionally operated in silos, but now more than ever, this is not a viable strategy and may result in lost opportunities. In order to meet goals, sales, business and marketing leaders must collaborate across a series of revenue-generating and soft activities. The efforts need to be aligned across go-to-market strategy, communication, enablement apart from other aspects of the business for a win-win situation for the marketers and most importantly for the organizations.
See What's Next in Tech With the Fast Forward Newsletter
Nothing to see here - yet
When they Tweet, their Tweets will show up here.