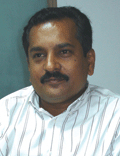 What is the present status of Tyco business through channel market?
Tyco Electronics is extremely focussed on its channel business. We have three national distributors with 30-plus sales offices and warehousing facilities across the countr. In the next layer in our supply chain, there are ten regional distributors that have helped enhance our presence across India, especially in the B & C class cities through a network of huge resellers database. The TE Channel community has become quite strong and we have added new partners to the TE family, taking the count to 140.  We have extremely strong relationships with our OEMs with whom we partner for large turnkey infrastructure / datacenter projects etc.

How many products are you pushing through channel?
Tyco Electronics has a huge portfolio of products. All of our products get sold through our channels either directly or as duty-exempt sales. The product-mix here is for both copper and fiber. Copper includes cables ranging from Cat 5E to Cat 7A, along with components such as jacks, jack panels, face-plates, etc. For a complete range of fiber cables from OM1 to OM4 and OS2 in both single mode and multi-mode, there is also a vast variety of pigtails that are pushed through the channels. There are also special products for datacenters like MPOs & MRJ 21 cassettes that find their way to customers through Channels. Products like ODFs, MDFs, etc. that find application in our outside premises installations are also marketed through channels

What kind of experience do you have with the partners till now who handle your RIM segment and other allied business?
We are currently working with our channels to improve the quality of services as far as our telecom business is concerned. Our strategy here is to conduct training programmes, demos, roadshows, etc. to upgrade the skill sets of the partners. We are also in the process of cultivating and developing System Integrators to handle the challenges being posed by new access cabling systems like FTTH and FTTB.

What are the activities are you planning to evolve the industry?
Keeping in mind the challenges of the new and evolving systems, we are planning to conduct technology update on connectivity and sealing systems which would allow our customers to quickly roll out error-free, cost-effective networks. In addition, we are also working towards sharing our global experience to establish FTTH passive network in India in partnership with active service providers

What is your empowerment and incentivization programme for the partners?
One of the major challenges of our industry is the lack of trained manpower. Training has been one of strongest empowerment programmes for our partners. Apart from our globally accredited paid training programme called AMPACT training, we are about to announce special AMPACT training in datacenter connectivity solutions very soon. We have started informal training programmes for our partners, especially in the B & C class cities where SCS and networking industry is set to take off in a big way. It is important to note that AMPACT training is also helpful when designing outside plant networks.
We are also hoping to launch a certified course in new trends and technology in the TOSP technology like FTTH.
Apart from training, organize Channel Meets for the partners who participate in target- based programmes that qualify them for partner conference abroad that includes technology update, networking opportunity as well as some time for relaxation and sight- seeing.

What is your service and promotion strategy?
Tyco Electronics offers 25 years' component and/ or performance warranty for its enterprise copper networks if installed by our AMPACT certified engineers.
For our TOSP customers, the warranties are extended as per industry standards.
We market our products through integrated communication channels that include advertising, public relations, seminars, roadshows and participation in exhibitions, conferences and trade fairs.

What is your roadmap for the next two years in terms of channel business?
Being completely focussed on this business, we intend to extend our reach to more and more B & C class cities and reach beyond into D-class cities. We also have plans of adding new regional offices to enhance our direct presence.

Can you provide your business mix in terms of channel and direct? And, how do you want the landscapes?
As conveyed earlier, all our products get sold through our channels either directly or as duty-exempt sales. The mix varies from quarter to quarter/ year to year based on the contractual needs of the end-customers as far as enterprise customers is concerned. For TOSP customers, it is always based on the contractual needs of the end-customers.

What is your immediate issue or challenge that you want to overcome?
The industry still faces the challenges in the area of trained personnel. These can be overcome by a determined effort to impart structured training to the engineers in the industry. We have already established four training centres for fulfilling this commitment.
See What's Next in Tech With the Fast Forward Newsletter
Nothing to see here - yet
When they Tweet, their Tweets will show up here.