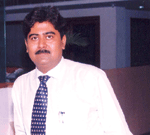 Canon is crossing this year with a turnover of Rs.310 crore which is in sync with the predictions made earlier. One of its aggressively traded product categories is the A4 entry-level cartridge-based products. Canon wishes to garner a market share of 10 per cent by the end of 2006. Out of its newly-launched 43 products, 17 products belong to OSS (Office Systems and Solutions) group.
The categories of products that Canon has unveiled include 7 digital cameras, 2 Digital SLRs, 4 DV Camcorders, 2 photo-printers, 7 printers, 1 scanner, 4 AIOs, 5 projectors, 1 fax, 1 laser MFD, 2 DRs, 4 Image runners and 2 LFPs. The company expects them to contribute around 30 per cent to the total revenue of Canon India by the end of 2006.
Canon currently has around three–four per cent of share in the Indian OSS (Office Systems and Solutions) market segment. This division was divided into two, at the time when Som's predecessor quit Canon. "I was handling the volume part and Lux (his predecessor) was handling the value division. Now when I am taking care of the whole division, I have divided it into four parts depending on the products classification, the utilization of the products, the customer's profile, who will use it and how they are using it," says Som. These four sub-divisions are small office home office/small and medium business (SOHO/SMB), utility products like copiers, document management system products (DMSS) like high- end MFDs, and production and graphic arts (PGA).""All these four groups are managed by 41 people. They are the marketing managers of these groups," informed Som.
Canon's OSS business contributes over 50 per cent to Canon India's turnover. As per the recent study, Canon India's OSS revenue has grown 20 per cent over the last year, while in terms of unit it has registered 46-per cent growth.
Canon agrees that the growth opportunities ahead in the consumer and business segment will be generated from harnessing the combined power of unique technology and strong marketing activities. The new augmented strategy at Canon is all about building the industry's best technology portfolio and together with aggressive marketing initiatives giving the best experience to the customers. As the company moves ahead on its growth path, it would develop a direct relationship with its state channel partners, something that was being done through the distributors earlier. Som said, "Of the four groups, the SMB is the fastest growing segment, utility is stagnant, DMSS is showing rapid growth while the PGA segment is opening up as many companies moving towards digital printing."
According to him, Canon plans to be very active in the cheque truncation space in the coming months. "We are tying up with major SIs like NCR Corporation to provide cheque truncation solution in India. We are also looking at other SIs to drive this business," he added.
Canon is all set to introduce its ImageWARE document management software in its products from January 2006. It is expected to offer businesses a smarter way to work by helping them to increase operational efficiency while sustaining a competitive advantage.
New Marketing Strategy

The first element of the strategy, as per Canon's plan,'is to delay the distribution channel in a phased manner. The company is restructuring its distribution channel model to what it calls "Re-alignment for faster response and information flow".
The second element is an increased focus on retail expansion in three areas. Canon currently has 23 Digiclick Zones (DCZ) for photo products, 13 Home Cinema Centers (HCCs) for projector products and 71 IT Imaging Zones (ITZs) for printer products. For IT retail expansion, Canon has introduced the "CRP 150" thrust, under which they plan to engage 150 retail partners for printer products and all-in-ones by December 2005.
The last element of the strategy is the creation of a "Value Shift". The company plans to move the focus of selling from unit-based to value-based. This approach will help Canon and its partners with additional business opportunities. The aim is to have 40 per cent of the revenue coming from the medium and high-end business – both in–the consumer and enterprise space.
In order to involve the distribution channel in the new strategy, Canon organized a two-day Leadership Summit in the third week of October, where over 200 channel partners discussed the issue and made the implementation plan. Canon is also launching a portal-based engagement program meant for channel partners.
When asked about the company's initiatives towards the most happening SMB segment, Som added, "SMBs are a significant part of our target market and Canon plans to focus on this segment in 2006. We need to customize our existing strategy to reach the SMB market and that is what we are working towards." The costing and positioning are critical aspects of this strategy. Canon would be offering two-tier solutions for the SMEs – enterprise version and departmental version, which is not web-enabled. We are currently focussing on building a departmental portfolio for the SMEs.
Secondly, in the case of MFDs, the hardware is expensive while the software is comparatively much cheaper. The best strategy is to bundle the hardware and software cost in such a manner that the price is just right for the SMB segment. Canon is also creating a direct sales force focussed on SMEs because this is one segment where direct reach is critical.
Finally…
Canon has always been successful while planning strategies followed by implementing them. So, when on the one hand the company is going forward aggressively towards implementing its newly-chalked out strategies, Som is also aiming at three-time growth.
See What's Next in Tech With the Fast Forward Newsletter
Nothing to see here - yet
When they Tweet, their Tweets will show up here.