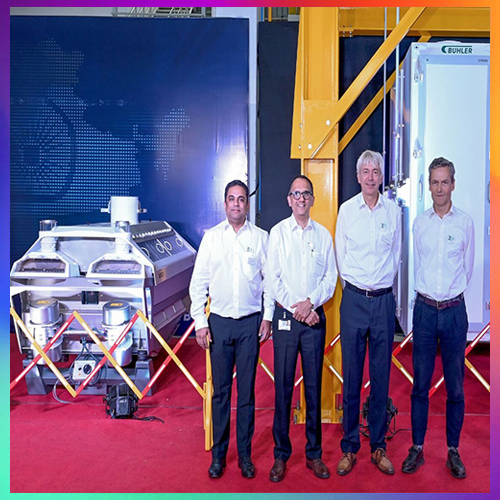 Swiss technology group Bühler celebrates the 30th anniversary of establishing its business in India and announces the expansion of its manufacturing capabilities in the country. In the coming months, Bühler India will begin producing a wider variety of core product portfolios for the grain milling, food, feed, and advanced materials industries, addressing the demands of a flourishing domestic market and customers abroad. 
The decision to expand investments in the country is another milestone in Bühler Group's long and fruitful relationship with India. It is a journey that started 30 years ago when Bühler India was founded in Bengaluru in the presence of the then Swiss Ambassador to India and Bühler's then CFO, Philipp Müller. Over this time, Bühler India has become one of Bühler Group's leading global technology centers with manufacturing infrastructure, research and development teams, application centers, and training facilities. Bühler India, which employes 600 people today, is manufacturing high-quality grain and food processing equipment for customers across the country and abroad. In future it will further expand its core product portfolio for the feed and advanced materials industries. Bühler India's business has been growing by more than 10% over the past three years. 
In August 2022, Bühler India took a major step in expanding its local production by manufacturing Sortex color sorters. This move enables the grains and food industries in the country to have easy access to this key technology, which contributes to food quality and safety. The company also provides retrofitting and refurbishing services for existing Sortex machines. 
Robust business case 
Bühler is taking its business in India to the next level by expanding the range of products it manufactures to include equipment for the country's growing milling industry. The company has already started the production of its Square Plansifter Areniter MPAV, a key component in the flour production process that sifts and sorts grist and flour in wheat, rye, maize, and durum mills. Other core machines such as purifiers and roller mills are also in the pipeline and scheduled to be available to customers in 2024. Bühler India will continue to expand its core product portfolios going forward to include the feed and advanced materials industries. 
With this plan, Bühler India aims to strengthen its position as a leading provider of state-of-the-art solutions for the grain milling industry. Currently, Bühler India's 32,000 square meter premises in Bengaluru comprise the company's headquarters, a manufacturing hub, and an Application & Training Center (ATC) which covers multiple industrial applications. The ATC provides a platform for customers to conduct product and equipment trials, optimize processes, and conduct training across all operational levels – for mill proprietors, managers, and operators. 
Prashant Gokhale, Managing Director, Bühler India, says, "We are celebrating the 30th anniversary of Bühler India with a strong business case. We plan to invest about CHF 21 million (INR 200 crores) over the next 2 to 3 years to support the success of our customers in the region and overseas. It will accelerate new business opportunities and create new jobs, while contributing solutions to address global challenges such as food security and food safety. This investment is not only about growth; it is about combining Bühler's state-of-the-art technologies with local expertise to offer the most sustainable processes and solutions to our customers." 
Investing in talent development 
For this journey, Bühler not only counts on the expertise and engagement of its teams but supports the development of its talents in a consistent and pragmatic way. The company has more than 100 years of history of vocational training, preparing young adults for a career in a global company such as Bühler or beyond. Bühler India adopted an apprenticeship program in 2009. 
The Bühler Academy in Bengaluru develops young talent with high-quality vocational training. To date, about 200 apprentices have graduated from the Academy and around 80 are currently in training. Five different base programs (from entry level to graduate apprentice), along with the Swiss Vocational Education and Training (VET) program, and an Apprentice Exchange Program are offered to the apprentices. All these programs comprise a carefully evaluated course module and follow a combination of theoretical knowledge and practical training. The growth plans also include investments in new talents for Bühler India. There is a program in place to hire about 300 employees over the next 2 to 3 years. 
"Without our employees we could not have achieved this new milestone in manufacturing in India for India. Therefore, we sincerely thank our teams for the 30 years of engagement and hard work. We move ahead with energy and commitment to keep adding value to our customers, teams, partners, and the country," says Prashant Gokhale. 
See What's Next in Tech With the Fast Forward Newsletter
Nothing to see here - yet
When they Tweet, their Tweets will show up here.