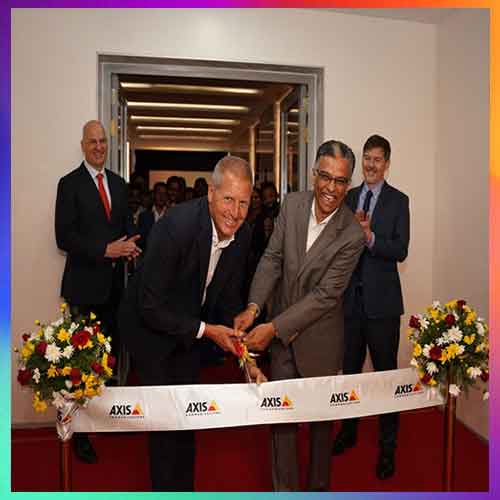 Axis Communications has announced the opening of their new office, and the launch of India's first Axis Experience Centre in the heart of Bengaluru. The Axis Experience Centre, which is part of the Axis India office will showcase the latest advances in network security solutions and offer a hub for engaging with an extensive network of stakeholders across the country, strengthening security protocols.
The inauguration of the office and Axis Experience Centre (AEC) witnessed the presence of Ray Mauritsson, CEO, Axis Communications AB, Boudewijn Pesch, Vice President, Asia Pacific, Carl Malmqvist, Regional Director, South Asia Pacific and Sudhindra Holla, Director, Axis Communications, India & SAARC. 
Through the newly established premises in Bengaluru, Axis will strengthen its foothold in the state and gain access to an ecosystem of potential teaming partners, further enhancing the ability to drive innovation and excellence. Furthermore, the AEC will enable an immersive first-hand experience of future-ready technologies with physical product showcases and interactive demonstrations. Enabling a preview of the company's most recent product offerings, the AEC will help ecosystem partners to grasp the accurate functioning of the technologies with hands-on training of the products, to optimize every touchpoint of the customer journey.  
Ray Mauritsson, CEO, Axis Communications, said, "16 years ago we opened the doors to our first office in India, so I'm proud and excited to now step into our new office space. India is an important and growing market for Axis. Opening an Axis Experience Centre in addition to our new office is a long-term investment and commitment, which will help us in serving our customers in this region even better going forward". 
The Axis Experience Centre will display many of offerings, including advanced surveillance systems encompassing features such as audio analytics, intrusion detection, automated access control systems, as well as data analysis tools that yield actionable insights for better decision-making. 
Sudhindra Holla, Director, Axis Communications, India & SAARC said, "The digital transformation of India is gaining momentum, driven by a rising awareness of the advantages that digital technologies can offer. We foresee sustained technological adoption and innovation to generate opportunities for the evolution of advanced security applications. An experience centre in a major business hub like Bengaluru will enable us to engage our stakeholders more effectively across India. We are eager to collaborate closely with reliable partners to construct intelligent, secure, sustainable, and efficient businesses of tomorrow". 
See What's Next in Tech With the Fast Forward Newsletter
Nothing to see here - yet
When they Tweet, their Tweets will show up here.