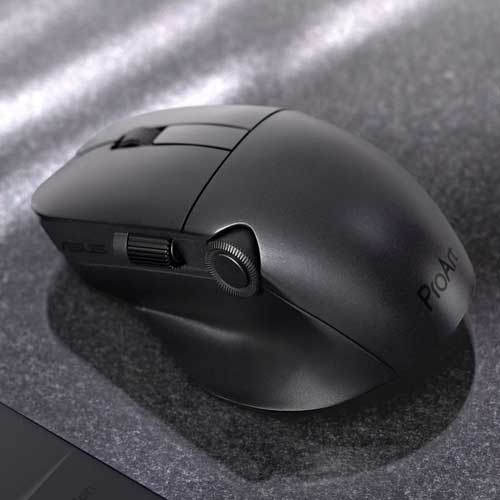 ASUS has launched the best-in-class MD300 ASUS ProArt Mouse, to further strengthen its Accessories line-up in the country. The ProArt Mouse is the first mouse that features ASUS Dial, empowering creators to make quick and precise settings adjustments within seconds. The programmable dial and side scroll on the mouse work in harmony with one another to deliver an intuitive and faster user experience. Optimized over ProArt Dial UI, the new mouse is tailored to meet the multitasking needs of on-the-go professionals and creators.
ASUS Dial scrolls through 100 lines per revolution and lasts 5X longer than traditional mouse scrolls. ASUS ProArt Mouse will be available from 20th March 2023 at a price of INR 8,499. ASUS has further expanded its accessories line with two new bags, the ASUS Vantage Briefcase 15.6 and the EOS 2 Shoulder bag, perfect for business trips and leisure travel.
The ASUS Vantage Briefcase 15.6 will be available from 20th March 2023 at a price of INR 20,990, while the EOS 2 Shoulder bag will be available from 1st April 2023, with prices starting at INR 899.
Arnold Su, Business Head, Consumer and Gaming PC, System Business Group, ASUS India said, "ASUS always strives to enhance the customer experience at every step and accessories play a key role in reflecting the users' lifestyle and aspirations. Given the positive response we have received from our community on this segment in 2022, we are all set to further expand our accessories line-up by introducing productivity-oriented products such as ASUS ProArt Mouse, ASUS Vantage Briefcase 15.6 and EOS 2 Shoulder Bag."
The premium ASUS ProArt Mouse featuring quality components comes equipped with three buttons having professional-grade switches that provide tactile mouse clicks. Further, it has a high-performance sensor that tracks at up to 4200 dpi for unmatched precision, even when used on a glass surface to boost one's creative flow. The large, independent middle key comes with a changeable integrated gaming-graded switch and offers the same solid and seamless feel for both left- and right-side clicks. The mouse supports dual connectivity with support for both RF and Bluetooth standards. One can connect with up to 4 devices, allowing the user to juggle smoothly between multiple devices. Setting it apart from the others, the ASUS ProArt Mouse features best-in-class fast charging and excellent tracking performance. It offers fast, 1-minute charging for up to 8 hours of battery life and when fully charged, it can last up to 150 days.
The ASUS Vantage Briefcase 15.6 is the ultimate combination of style and strength, allowing users to get down to work quickly and easily. It is extremely lightweight at just 0.48 kg, making it portable and easy to carry. It features a 1262D ballistic nylon interior and Nappa leather exterior. The tear-resistant and water-repellent fabric offers protection and longevity and meets the ultra-demanding ASTM3 standard for reliability and durability. It has a voluminous main compartment with a quick-access zipper for laptops and the foam-padded laptop and tablet slots keep devices safe. Moreover, the numerous exterior pockets for everyday essentials make it the perfect daily driver.
EOS 2 Shoulder bag boasts a fashionable two-tone design, available in Black and Dark Gray or Oat and Light Gray. It is made of scratch-resistant and water-repellent 600D polyester, making it durable for everyday use. This lightweight bag weighs only 0.48 kilograms and is part of the Asus collection, adding a touch of elegance to your style. The EOS 2 Shoulder Bag has exquisite details, including a woven ASUS Collection label and precision-cut zippers, which showcase your style while keeping your valuables organized and safe. The soft-touch nylon handle and adjustable padded strap offer comfortable carrying options. The bag even has a built-in luggage strap for added convenience.
See What's Next in Tech With the Fast Forward Newsletter
Nothing to see here - yet
When they Tweet, their Tweets will show up here.