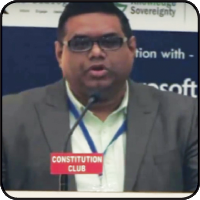 "The first thing that I would like to talk about is why are we talking about data so much? From the government perspective, we need a lot of data for policy and good governance purpose. So if we take the recent example of Dengue that had spread all over Delhi, it is very common in many countries to get the healthcare data, know where the dengue clusters are, map them with polluted water location and resolve the issue. We are not able to do such simple things because we do not have health records in electronic format that can be shared in a way so that decision makers can take the decision. So it becomes very challenging for us.

We are now in the AI (Artificial Intelligence) game and we can use the same for good governance. The leaders in this field are US, China and a few other countries where already they have already gone ahead and form their AI policies on how to enable the AI ecosystem. There are several aspects in the AI ecosystem that a country can do to enforce it so that private players, academia and researchers can accelerate the work in AI. One of the factors that NITI is working is availability of good amount of training data because that is one of the core things and when you want data for this purpose they would like to have all the data. There is a lot of work on the anonymization. But we have to do this to ensure that the ecosystem is there and the things are in place." 
Dr. Avik Sarkar
Head - Data Analytics Cell at NITI Aayog, Govt. Of India
See What's Next in Tech With the Fast Forward Newsletter
Nothing to see here - yet
When they Tweet, their Tweets will show up here.