Anurag Singh Thakur launches Fit India's Healthy Hindustan Talk Series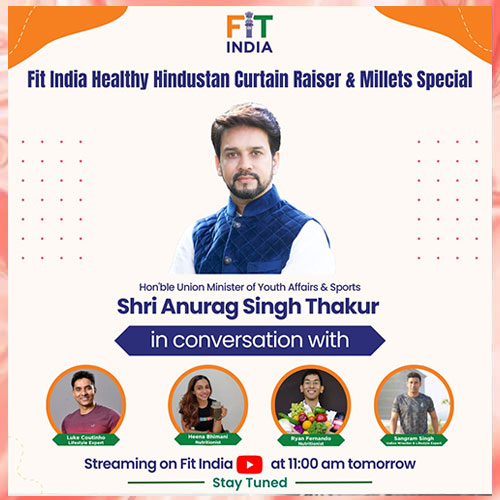 Union minister of youth affairs and sports, Anurag Singh Thakur, on January 15th announced the launch of Fit India's Healthy Hindustan Talk Series with a special episode on Millet. During the special curtain raiser episode, the Minister had a special session with the Fit India Healthy Hindustan Icons, where he discussed fitness, a healthy diet chart, the needs of senior citizens, and a special session on the importance of Millet in our daily life.
The series is an online talk show by eminent fitness experts and Fit India Icons, and will kick off on 22nd January until 12th March 2023. It would be aired on the official YouTube and Instagram handles of Fit India, every Sunday at 11 am.
During the curtain raiser program, the Minister appreciated all the experts and icons of Fit India for such a noble campaign. He said, "At the age of 70 years, we wish for a healthy body, then why don't we start taking care of our health from a young age? Let's take knowledge from professionals, eat healthily, exercise regularly, and stay fit. As soon as we make people aware, there is going to be a big difference, and I have full faith that this show will bring a change in the lives of people."
In keeping with the vision of prime minister Narendra Modi to create a fit nation, the Fit India Healthy Hindustan aims to promote the importance of fitness, healthy eating, and mental wellness among all age groups, especially senior citizens.
The United Nations General Assembly has declared the year 2023 as the International Year of Millets (IYOM). It is an initiative by the Government of India that has led to a United Nations Resolution being adopted with support from more than 70 nations across the globe. The Government of India endeavors to celebrate IYOM 2023, to make it a people's movement so that Indian millets, recipes, and value-added products are accepted globally.
The Fit India Healthy Hindustan panelists include Luke Coutinho (Lifestyle Expert), Ryan Fernando (Sports Nutritionist), Heena Bhimani (Nutritionist), and Sangram Singh (Wrestler/Motivational Speaker).
Speaking about the importance of Millets, Ryan Fernando, Nutritionist, said, "60% of ladies have hemoglobin deficiency but usage of millets can fulfill that deficiency; Raagi has something in it called phenolic acid, which is a very powerful Super Antioxidant that heals muscle damage and Millets in my book is going to become new superheroes."
Wrestler Sangram Singh adds, "Fit India Healthy Hindustan Program is a good initiative by the government, which will benefit everyone. If we all start using millet, then diseases will be 99.9 feet away from our country and will soon become a sporting nation."