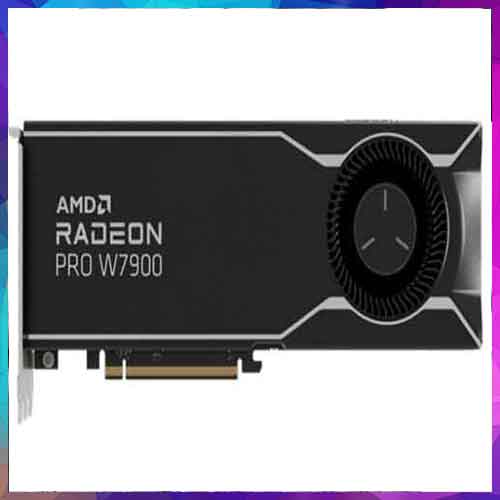 AMD has announced the AMD Radeon PRO W7000 Series workstation graphics cards built on the high-performance, energy-efficient AMD RDNA 3 architecture -- the AMD Radeon PRO W7900 and AMD Radeon PRO W7800 graphics cards.
As the world's first professional graphics cards to feature the advanced AMD chiplet design and the first to support DisplayPort 2.1 for a superior visual experience on next-gen displays, the AMD Radeon PRO W7000 Series graphics cards are the most powerful professional graphics cards that AMD has built to date. While the AMD Radeon PRO W7900 delivers up to 1.5X faster geomean performance than the previous generation, both graphics cards provide better performance-per-dollar vs. the competition for demanding professional and creative applications.
Key features include -
· AMD RDNA 3 Architecture and Chiplet Design – Provides higher performance and greater efficiency than RDNA 2 architecture. New AMD RDNA 3 compute units share resources between rendering, AI, and raytracing to offer approximately 50% more raytracing performance per compute unit than the previous generation.
· Dedicated AI Acceleration and Second-Generation Raytracing – New AI instructions and increased AI throughput deliver over 2X more performance than the previous AMD RDNA 2 architecture, while second-generation raytracing technology delivers significantly higher performance than the previous generation.
· AMD Radiance Display Engine with DisplayPort 2.1 Support – Supports the highest resolutions and over 68 billion colors and offers support for higher refresh rate displays compared to AMD RDNA 2 architecture and competitive offerings. Display outputs support next-generation displays and multi-monitor configurations options, creating an ultra-immersive visual environment.
· Certified for Leading Professional Applications – AMD continues to work with leading professional software application vendors to ensure AMD Radeon PRO graphics cards are built for demanding 24/7 environments and tested to meet exceptional standards, delivering the ideal balance of performance and stability.
See What's Next in Tech With the Fast Forward Newsletter
Nothing to see here - yet
When they Tweet, their Tweets will show up here.