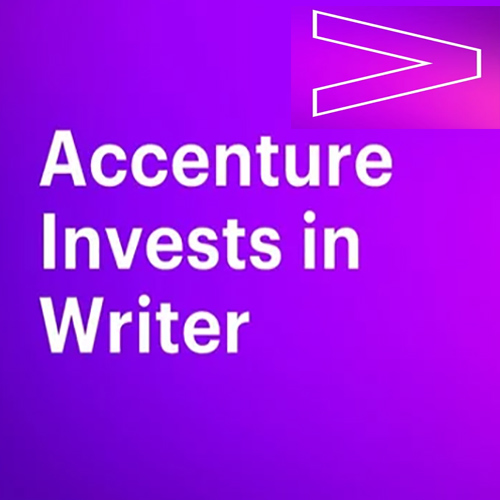 Accenture (NYSE: ACN) has made a strategic investment, through Accenture Ventures, in Writer, a platform using generative AI to help enterprises create and shape content in the ways people already work.
Writer is designed to help organizations deploy AI-driven applications that can increase productivity and drive significant business impact across enterprise functions including support, operations, product, sales, HR, marketing, and more. Enterprises can integrate generative AI into their content creation and other workflows, as well as generate insights from their internal data, safely and securely.
"Our continued investments in generative AI platforms will empower clients across all industries to transform how they create, personalize and distribute content at pace, but also safely, securely and with brand integrity," said Baiju Shah, chief strategy officer of Accenture Song. "We've entered a new era of tech-powered creativity and believe Writer's enterprise-ready platform is a strong addition to Accenture's comprehensive set of generative AI capabilities, tools and expertise, helping our clients capitalize on a wide range of uses across marketing and sales."

 
At Accenture, marketing and communications professionals use Writer to generate written content, synthesize various content and align writing to voice and brand guidelines. Accenture started using Writer in 2021 to augment its writing proficiency and is now scaling Writer's generative AI capabilities internally, while also preparing to offer them to clients as part of its existing capabilities.

 
According to Accenture Research, up to 40% of all working hours will be impacted by LLMs, and 98% of global executives agree AI foundation models will play an important role in their organizations' strategies in the next three to five years. Accenture announced in June 2023 that the company would invest $3 billion in its Data & AI practice to help clients across all industries rapidly and responsibly advance and use AI to achieve greater growth, efficiency and resilience.

 
"Generative AI tools like Writer can drive greater creativity," said Jill Kramer, chief marketing and communications officer of Accenture. "As we continue to expand the use of AI across our global marketing and communications function, the opportunities to enhance content creation, productivity and our entire marketing model are boundless."

 
Writer enables organizations to execute generative AI use cases designed to meet their specific workflow needs. These AI-driven applications sit securely on an organization's own on-premises systems or private clouds, using their own proprietary data and conforming to their specific style and brand guidelines.

 
"It's pretty simple. Enterprises want impactful and secure generative AI applications, they want them integrated into their tools and workflows, and they want it soon. Writer is the only full-stack generative AI platform, and that is why our customers' generative AI use cases actually make it to production," said May Habib, CEO and co-founder of Writer. "Joining Accenture's 'Project Spotlight' program will enable Writer to benefit from Accenture's expertise from decades of deploying AI across industries and functions, and help us grow by driving broader awareness of our capabilities."

 
Writer is the latest company to join Accenture Ventures' Project Spotlight, an engagement and investment program that connects emerging technology startups with the Global 2000 to fill strategic innovation gaps. Project Spotlight offers extensive access to Accenture's domain expertise and its enterprise clients, helping startups harness human creativity and deliver on the promise of their technology.
Terms of the investment were not disclosed.
See What's Next in Tech With the Fast Forward Newsletter
Nothing to see here - yet
When they Tweet, their Tweets will show up here.