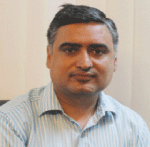 Tell us about your company and the products and solutions you are offering?
AccelPro has been formed to meet the needs of the day for faster application access without compromising on security of the networks. AccelPro's Next Generation products provide Secure Remote Access and End to End security along with the best performance, which is lacking in all other conventional SSL VPNs in the market today.
AccelPro has developed revolutionary HPAATM, MASLATM technology along with Core SSL (CSSLTM) and Optimized Compression Engine (OCETM) which results in very high performance of networks, makes AccelPro the Next Generation of VPN. 
What is the roadmap for India?
We have got very large Enterprise, ISP and SMB customers in India within no time. Since AccelPro is a 100% channel-driven organization, we have a clear focus to build strong, technology-driven channel ecosystem in India. We are running extensive training programmes for our partners so that they can support end-users effectively. We also want to target ISP and large Enterprises and would like to engage directly to position our revolutionary and only Enterprise-class SSL VPN product available in the market today. It is not our policy to pick orders directly. 100% business of AccelPro is done through our channel partners only.
Which are the focussed market verticals that your solutions cater to?
We cater to all the market verticals. Now, every organization is deploying Enterprise applications – be it ERP, CRM, and employee portal or emailing solution. They want to provide access to those applications in a secured way with end-to-end security, but at the same time they also would not like to compromise on network performance. Our solution ranges from SOHO to SMB to Large Enterprises to Carrier class.
Please throw light on the channel business of your company. Do you engage your partners in regular training programmes to get them accustomed to the latest technologies and solutions?
AccelPro Technologies is a 100% channel-driven company. We do not sell directly in the market. As a pure channel-driven organization, we believe in providing best-of-breed training to our channel partners so they are able to provide unmatched support to our end-users which is the prime focus of AccelPro. We keep on doing Channel Training programmes on a frequent basis in every region of the country.
Where would you like to see your company in the next 4–5 years?
With the kind of innovative technology AccelPro is providing which is the need of the customers today, we are well set to change the rules of Secure Remote Access market worldwide. We claim to be the single vendor in the world to be a True Enterprise Level SSL VPN product.  With a clear aim to be a leader in this segment, we aim to cater to at least 40% to 50% of the global market in the coming 4–5 years. 
See What's Next in Tech With the Fast Forward Newsletter
Nothing to see here - yet
When they Tweet, their Tweets will show up here.