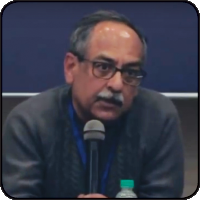 Prof. Subhashis pointed that data can only be used for pre-approved and legitimate purposes. Informational self-determination and the autonomy of an individual in controlling usage of personal data have emerged as central themes across the privacy judgment. It is argued that Indian data protection regime should offer stricter privacy protection than what is prevalent in the US, and on the other hand have a more innovation friendly setup than what the privacy protection framework in the European Union can offer, which perhaps is unduly restrictive without being commensurately effective. Additionally, the framework should be sensitive to our large under-privileged population which may not have the necessary cultural capital to deal with an overly complex digital setup.
A passive regulatory framework based on detection of privacy breaches, and traditional understanding of privacy protection based on the principles of consent, purpose limitation and transparency is unlikely to be successful for privacy protection.  He also advocates an architectural solution based on online validation of authorisation and access control to prevent privacy infringements in the first place.
Prof Subhasis Banerjee
Computer Science & Engineering - IIT Delhi
See What's Next in Tech With the Fast Forward Newsletter
Nothing to see here - yet
When they Tweet, their Tweets will show up here.