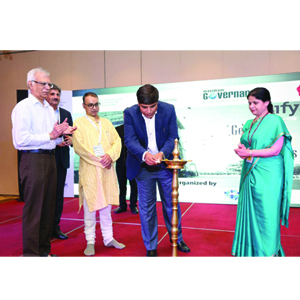 The wave of Digital India has taken over the country. It is an initiative to bring the government more close to the citizens. Many digital initiatives have already been started to take Digital India initiative to the next level. 
A research led by Coeus Age Consulting, a first of its kind initiative, unearthed 41 transformative digital governance initiatives which are revolutionary, and playing a significant role in making government more responsive, accountable, transparent etc. The 41 digital governance initiatives are bestowed with the epithet of The Gems of Digital India. 
After a meticulous research that extended for 13 months and 30 man months of efforts, the Gems of Digital India were identified through a vivid process of classification, shortlisting, and jury selection, from a repository of 1600 eGovernance projects in India. The panel of jury consisted of eminent names from the government, industry and the academia. The process does not end at identifying the gems, but all the hard work, dedication and the experience have been documented as insightful case studies. These case studies are brought together and compiled in the form of a book written by Dr. Kapil Dev Singh. It is titled as 41 Gems of Digital India – Actionable Insights for the EGovernance Leaders and Nation Builders.
As per the author, Dr. Kapil Dev Singh, CEO, Coeus Age Consulting, 'The Gems of Digital India were identified through a discovery process, not through a nomination process. That sets our initiative apart from other award functions. There is a lot of rigour that has gone behind the process. The red seal Gems of Digital logo has today emerged as the symbol of excellence and quality."

The book was launched at the felicitation function of 41 Gems of Digital India. Over 100 government leaders attended it. There was a representation from 50 + departments/ ministries across the centre and 8 states. The event was adorned by Dr. Ajay Kumar, Additional Secretary, Ministry of Electronics and Information Technology, as the chief guest.    He said, "When I came to know of Coeus Age Consulting's intentions to discover the Gems of Digital India and celebrate their success by recognizing them and documenting their stories in the form of a book, I was extremely happy. Though recognition through awards is important to acknowledge a good work done, documenting the success is equally important from a learning perspective. The Ministry of Electronics and Information Technology, through its various organizations, is committed to supporting these digital journeys in every possible way, by providing the required policy, structural, infrastructural and knowledge support.'

When it comes to adoption of technology by the selected Gems of Digital India, the most prominent aspect that has been noticed among them is the hybrid approach. All the initiatives have adopted the latest and state-of-the-art technologies and can easily adopt emerging technologies of future.  

While delivering the technology key note, Debanjan Kumar, President and Business Head, Application Services, Sify Technologies Limited said, "Every sphere of life has been impacted by digital today, be it booking airlines ticket or calling a cab or even buying groceries. Sify has emerge into a transformation partner for enterprises and governments in helping them to fulfill their endeavour to go digital. We have successfully handled projects by delivering clearly defined business outcomes to our clients and simply not just IT availability. It requires a distinct set of capabilities to manage end to end of the IT spectrum to ensure services to the consumers or the citizens." 
See What's Next in Tech With the Fast Forward Newsletter
Nothing to see here - yet
When they Tweet, their Tweets will show up here.